SIMPSONS - THE COMPLETE SECOND SEASON
Reviewed August 8th, 2002 by Dan Jones
"Homer: There's only one thing worse than being a loser. It's being one of those guys who sits in a bar telling a story of how he became a loser, and I never want that to happen to me."

Finally season two! Let's start this out the way I started my last Simpsons season review.

I can say that I am a fan of the Simpsons - I practically grew up on the show. I remember going into school and talking with everyone about last night's Simpsons episode. It seems little has changed over time. Currently, we see the show three times a day here in college, from 5:00-6:00pm and then again, at 6:30pm, we then see it on Sunday (if it is airing) and possibly a couple other times during the week if Fox is nice to us. I would have to wager a guess that I have seen at least 95% of the episodes, probably four to ten times over.

Now finally, Fox is starting to release the show by season, on the DVD-format. Finally will be able to say definitively (in about 10 years or however long it takes to release all the seasons…assuming the Simpsons are not around in 10 years…) that they have in fact seen all the episodes, and even seen a little behind the scenes on the way.

Enter Season 2…

Here's a rundown of the episodes included on season number two: "Bart Gets An F", "Simpson And Delilah", "Treehouse Of Horror I", "Two Cars In Every Garage And Three Eyes On Every Fish", "Dancin' Homer", "Dead Putting Society", "Bart Vs. Thanksgiving", "Bart The Daredevil", "Itchy & Scratchy & Marge", "Bart Gets Hit By A Car", "One Fish, Two Fish, Blowfish, Blue Fish", "The Way We Was", "Homer Vs. Lisa And The 8th Commandment", "Principal Charming", "Oh Brother, Where Art Thou?", "Bart's Dog Gets An F", "Old Money", "Brush With Greatness", "Lisa's Substitute", "The War Of The Simpsons", "Three Men And A Comic Book", and "Blood Feud." You'll notice that we have twenty-two episodes here on season two instead of the mere thirteen on season one. You've got some watching to do.

Nicely enough Fox has continued the look from the first season boxes, just added the fourth disc. We get a nice gate-fold type thing like their X-Files boxes. The cover is also reversible with different amusing Simpsons poses.

The episodes are all presented in standard full screen of course, and look quite good, definitely an upgrade from season one and the best I have ever seen them in. Of course, these episodes are dated so there are still signs of their age, but for the most part, there is nothing to detract the viewer here. Colors are vibrant, blacks and darks are rich, detail is high and digital compression problems are just about unnoticeable. Very nice transfer indeed.

Fox has once again given a fully remastered 5.1 Dolby Digital mix to the episodes and again the results are quite good considering the age of the material used. While this is not a very surrounding experience, we do get the occasional use of the rears (though rarely very seamlessly). The LFE is not surprisingly, sparsely used. The audio is for the most part crisp and clear and undoubtedly the best the episodes have ever sounded. While the age does shine through in the audio's dynamic range, this is still a very solid mix; it will not disappoint. For those who wish to view the Simpsons in French, you will have to be content with Dolby Surround 2.0.

In the ways of extras, the box set does a pretty good job of supplementing the season.

Unlike the first season, this time around we have full audio commentary for every episode. I sampled a number of these and I must say I found them to be an enjoyable listen. Being a huge Simpsons fan, I had already seen all of these episodes so it is nice to be able to get some insight and reflecting into them by the shows creators, including Matt Groening (who is in all the tracks). A truly great extra that shows just how greatly loved this show is by the creators. Kudos to including a commentary for all twenty-two.

Next up are the two amusing music videos, "Deep Deep Trouble" and the un-cut "Do the Bartman" (god this song was so popular). These also come equipped with optional commentary from Groening and Co. Very amusing to relive these brilliant pieces of work again.

Next we have three Butterfinger commercials (an amusing thing to include) and two awards show segments, all again with optional commentary. Nothing too fantastic here but good for completeness.

"The Making of an Episode" with David Silverman is an interesting piece that details just about what you'd think it does, how an episode is made. We get information on storyboarding, animating, etc... Not too long (under ten minutes) but worth a watch.

Next, we have an old interview with Groening and James L. Brooks, that discusses their thoughts on season two and why some of the characters are the way they are. A very old interview (shows some wear and tear) but quite interesting and amusing.

Rounding it out we again have some foreign language clips that allow us to see how jacked up the Simpsons sound in different countries, and an image gallery.

Another season another must purchase. If you are a Simpsons fan or just someone who wants to see the best television show ever made then you have to pick up this set. Very good video and audio as well as some great commentaries and a handful of extras make this is a must-have for all Simpsons fans. Bring on season 3!

HIGHLY recommended.
Please help support our site by buying this DVD title through this link. Thank you kindly.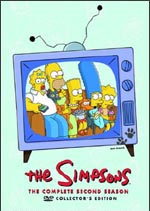 Purchase This DVD
Story / Content



Audio



Video



Extras