SKIPPED PARTS
Reviewed September 16th, 2001 by David Nusair
There have been a lot of coming-of-age stories set in the 1950s. Skipped Parts, while partly a coming-of-age story, certainly wins points for trying to show a different perspective – but loses in a big way by not creating any memorable (or even likable) characters.

Bug Hall (Alfalfa in the early '90s Little Rascals movie) stars as a young man who's just moved to Wyoming with his crazy mother (Jennifer Jason Leigh). They've been shipped there by her father, a congressional candidate looking to avoid a public scandal. Leigh quickly proceeds to turn the small town upside down with her liberal (that's putting it mildly) views on everything from sex to neighborly relations (she tells the welcome wagon to "f" off). Meanwhile, Hall meets a young girl (played by Mischa Barton) who doesn't want to enter her teen years without knowing a few things about the birds and the bees, so she enlists Hall as a sex partner "for practice."

Skipped Parts is a marginally entertaining take on this sub-genre (the slice-o'-life in middle-America). But it's not enough to be just marginally entertaining, though, when past flicks of this sort (Stand by Me being the most prominent example) have managed to transcend the façade of the shiny, happy '50s and became more about human nature and growing up. Skipped Parts never rises above that façade. It's got all the imagery down (from the Buddy Holly-esque glasses to plaid skirts) but thematically this just isn't an interesting story.

And it doesn't help that the behaviour of the two leads is so unbelievable. Without resorting to crassness, there is a scene in which Hall experiences his first wet dream and Leigh, in an effort to determine that it was indeed a wet dream, samples a bit of Hall's (how to put this?) refuse. That's just wrong.

The acting is uniformly good, though. Leigh, as usual, is quite good – but the real surprise here is Hall. Previously known primarily for his Alfalfa impression, Hall really comes into his own with this role. This is a character that's supposed to be both cynical and clueless at the same time, and Hall deftly walks that thin line quite efficiently and skillfully.

Snipped Parts may hold some appeal for those with a rigid upbringing, if only because Leigh's role as a parent will likely seem heroic. But for the rest of us, the movie comes off as one long attempt to shock.

Audio: Skipped Parts is presented with a DD 5.1 soundtrack, but does that really matter? This is a film with a lot of dialogue and little use for ambient sound. The track reflects this, with most of the track emanating from the center speaker. It's crisp and clean; it's just not very active.

Video: This 1.85:1 anamorphic transfer is good, but not great. It's often quite grainy and during darker scenes, some DVD-related artifacts can clearly be seen. Compared to other transfers from bigger studios, this image is left wanting. It's still miles beyond VHS, though...

Extras: The most prominent extra here is a commentary track with the director, Tamra Davis. This is mostly an informative track, with Davis offering tidbits of info on the production and her pleasure in working with the cast. She genuinely seems proud of the film, which makes the track easy enough to listen to. The only other extra is a full-frame trailer.

Conclusion: This bizarre slice-of-life tale is definitely not routine, and not for all tastes either.
Please help support our site by buying this DVD title through this link. Thank you kindly.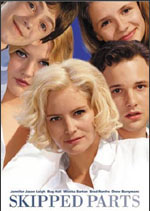 Purchase This DVD
Story / Content



Audio



Video



Extras