SARAH MCLACHLAN: MIRRORBALL
Reviewed January 18th, 2000 by Staff
Hailing from the rainy shores of Vancouver, British Columbia, Sarah McLachlan has become one of Canada's leading ladies of music along with the likes of Shania Twain, Alanis Morrisette and the original songbird, Anne Murray. "Mirrorball" is a live recording of her sold out 1998 North American 'Surfacing' tour. This concert was recorded for both the purposes of a live CD and (more importantly) DVD. To tell you right from the start this is one amazing DVD. It appears that no expense was spared with the production and promotion of this DVD. Overall packaging, interactive menus and quality really added value to a DVD that came to market for a relatively cheap price (it retailed in Canada for $18.99 cdn). A total of 25 tracks appear hear including 'Building A Mystery', 'Sweet Surrender', 'Possession' and her first international hit 'Vox'.

How Does The Disc Look?

In a word "Outstanding!" Shot on film the picture is absolutely perfect. Kudos to Lighting Director Graeme Nicol and D.O.P. Eric Edwards for making this concert look like a movie. One of the problems with many concerts shot on film or video is the 'rawness' it appears when transferred down to VHS or DVD. There is no appearance of 'rawness' on this DVD, but an appeasing softness as if Mr. Edwards used half or quarter black camera filters. Blacks are deep without any sense of grayness and hues seem very neutral.

If there were one complaint about this DVD it would be that it has been crammed down to a 4:3 ratio. Why, oh why, do producers insist on using 4:3 ratios?!? This excellent DVD would only be enhanced if it had incorporated a lovely widescreen ratio.

How Does The Disc Sound?

Again in a word "Outstanding!" The Dolby Digital 2.0 mix is wonderful but it's the 5.1 mix that really makes this DVD come alive. Sarah's voice comes through the centre channel as if you were sitting in the first 5 rows of the concert. It's clean, clear and oh so beautiful. A neat little mixing feature on this DVD is that of Sarah's voice faintly heard in both the front left and right channels and very, very softly in both rears. It gives the listener a real sense of expanding soundstage and for those of you in small viewing areas, a greater sense of concert realism.

Sarah's band is simply stellar. Taking musicians from a plethora of former Canadian bands (Vince Jones on keyboards played keys for The Grapes of Wrath and Sean Ashby, lead guitar, played with Vancouver band Ginger) 'Mirrorball' takes you on a audio journey that is simply a pleasure to listen to. Guitars are bright and cheery, Ashwin Sood's drums echo strongly and Brain Yamato's bass playing puts your subwoofer though a complete cardio workout (just have a listen to track 11 – "I Love You" and you'll see).

What Extra's Do You Get?

Tons! Unlike Sheryl Crows: Rockin' the Globe Live which has no extras, Sarah McLachlan's: "Mirrorball" goes the extra distance to provide you with everything you need to know about this DVD. Included are the following: Multi angles on three tracks, a small interview with Ms. McLachlan, a full discography, lyrics to all the songs on the DVD and a small photo gallery of stills taken from the concert.

Well?

"Mirrorball" is an absolute must have for any fan of Sarah McLachlan's, including those who already had bought "Mirrorball" on CD. From amazing pictures to fantastic sound, this DVD is probably the best concert DVD on the market and it shouldn't come as a surprise to many people as Sarah has been an early adopter of newer technology in the past. Both the "Surfacing" and "Mirrorball" CD's were excellent enhanced CD's and there should be no reason at all that any future releases from this wonderful woman would be anything but the same. Congrats to a job well done!
Please help support our site by buying this DVD title through this link. Thank you kindly.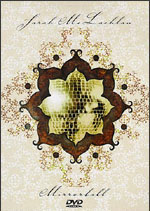 Purchase This DVD
Story / Content



Audio



Video



Extras