SNATCH (SPECIAL EDITION)
Reviewed July 29th, 2001 by Dan Jones
Snatch marks the second directing role of Guy Ritchie's short career. Upon first look of this short, two film career, one might conclude that perhaps Guy is a little stuck on the gangster movie genre. For those of us who enjoyed Guy's first movie, Lock, Stock and Two Smoking Barrels, Snatch will serve as a nice follow-up; a movie that doesn't change all too much from the "Lock Stock formula," yet still does what that formula does so well: entertain.

Snatch brings in some of the great Lock Stock cast and adds some "get the people in the seat" actors in Benecio Del Toro and Brad Pitt. The acting and the dialogue in Snatch is very well done. Vinne Jones does another great job as a tough guy, this time portraying "Bullet Tooth Tony." Brat Pitt also does a very solid job as Mickey O'Neil, even though I did not understand half the words he was saying (that was the idea). Benecio also does a great job in the diminutive amount of scenes he has. Overall, Guy Ritchie did a tremendous job of putting the movie together, from the brilliantly edited quick-cut scenes to the great overall cinematography. From the intro, to the Desert Eagle .50 scene, to the picture perfect boxing matches, the movie is put together just the way it should be. It keeps the action flowing and the movie speeding along.

So, how does Snatch do on the DVD format? Quite good. On the video front, Snatch gives us a full screen and 1.85:1 widescreen (anamorphic) transfer. The transfer is essentially perfect, leaving very little to complain about for the home theater buff. The picture is sharp and colors are vibrant, what more can we ask for from a DVD transfer?

Snatch also gives us great audio. No, we do not get DTS in this "Special Edition," but what we do get is a rock solid 5.1 Dolby Digital mix that definitely keeps the ears happy, from all angles. Fight scenes gives us that nice center of the crowd feeling, and the Guy Ritchie immersive sound effects sound great. We also get the option of running in the default Dolby Digital 2.0 Surround mode. This also does an adequate job, but, of course, does not match the Dolby Digital mix.

When a studio calls a DVD a "Special Edition" there had better be some nice extras. Snatch does a good job here giving us an audio commentary track by Guy Ritchie, a nice, often times humorous, look at the making of Snatch, deleted scenes (with and without commentary), theatrical trailers, storyboard comparisons, and a video photo gallery. Overall Snatch has enough extras to warrant the Special Edition title. However, there can always be more.

Overall Snatch is a very good, fast-paced, gangster movie. It gives us almost everything we would want out of a movie of this genre. The combination of larger then life characters, strong acting and dialogue, comedy, and a great overall cast helps to make Snatch a great follow-up to Lock, Stock and Two Smoking Barrels. Although some might say that Snatch is a remake of Lock Stock, in this writer's humble opinion, they both offer great entertainment; in other words, I did not feel that I had seen it all before. The Snatch Special Edition DVD is definitely recommended.
Please help support our site by buying this DVD title through this link. Thank you kindly.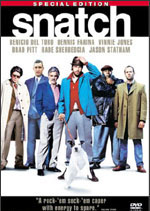 Purchase This DVD
Story / Content



Audio



Video



Extras