SNOW WHITE AND THE SEVEN DWARFS
Reviewed October 7th, 2001 by John Randall
It is almost hard to conceive that Snow White is actually as old as it is. 1937 sure was a long time ago. There was a lot of hype about the DVD – and in my humble opinion, Disney has the right to brag on this puppy.

I can not say that Snow White is my favorite Disney animated title, but since it was the first one to ever be released, and the first one I ever saw as a child, it certainly has a place in history.

Watching the DVD made me remember how back in 1937 the movie must have been awesome to viewers. I wonder how they would have reacted to more modern Disney classics like The Lion King (my favorite) or Mulan.

I suppose I should write out a small recap of the movie if by some chance you have not yet seen it (is that possible?). The movie runs a pretty fast-paced 84 minutes. A young princess named Snow White has been marked for death by the evil queen who is jealous of Snow White's beauty. Snow White runs and hides away with 7 little dwarfs (with names that are unforgettable).

What you have is a fun family film with unforgettable characters, animation and songs – a true timeless classic.

The 1.37:1 video transfer is very awesome. The restoration is just near perfect with just some slight problems on occasion. No one has seen this film look this good – most likely not even in the original release. The film may not be utilizing CGI, but this transfer should impress everyone.

The audio has been remixed in Dolby Digital 5.1 and was quite enjoyable. The soundtrack obviously is not as impressive as modern day movies, but again, that can not stop you from enjoying it. The sound is very clear. A mono track in English and French 5.1 is also provided.

The DVD is released in a two disc edition full of extras.

First off it should be noted that I enjoyed the menus with the "mirror mirror on the wall" as our main host. Try leaving the main menu on for awhile and he will say some funny things to you.

Included is a audio commentary, a documentary called "The One that Started it All" (hosted by Angela Landsbury) that I really enjoyed watching, "Dopey's Wild Mine Ride" game that was easy but actually fun to play, after the watching the movie you get to see Michael Eisner (head of Disney) introduce Barbara Streisand singing "Someday My Price Will Come" with footage of the film, and a sing-along to "Heigh Ho".

Also included is a small featurette on the restoration process (very good), still galleries, camera tests, commercials, deleted scenes (!!!), trailers and much more.

This two disc edition was very impressive in total and a great movie to top it all off. I can not see how any Disney fan will not pick up this DVD. Congrats go to Disney for one great job in total.
Please help support our site by buying this DVD title through this link. Thank you kindly.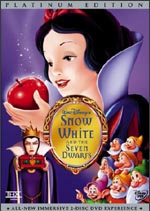 Purchase This DVD
Story / Content



Audio



Video



Extras