SO I MARRIED AN AXE MURDERER
Reviewed June 28th, 2001 by David Nusair
When So I Married an Axe Murderer was released in 1993, it's reception was mixed (at best). But it seems to have gained a cult following in the years since. It's smart, funny, and consistently entertaining.

Mike Myers stars as Charlie McKenzie, a commitment fearing beat poet (apparently, this is his job because we never see him doing anything else) that finally falls in love with a woman named Harriet (Nancy Travis, before she completely disappeared). The two begin a courtship and seem happy enough - until, that is, Charlie discovers some odd coincedences connecting Harriet with an axe murderer.

So I Married an Axe Murderer, besides being a great showcase for Myers' ample talent, features a number of familiar faces in supporting roles. Anthony Lapaglia plays his cop buddy, while Alan Arkin plays Lapaglia's sensitive captain. Myers takes on another role in the guise of his father (the heartiest laughs come from this character's bizarre behaviour and unusual nickname for his other son) and accomplished actress Brenda Fricker plays Charlie's mom. Michael Richards, Phil Hartman, Steven Wright and Phil Hartman all pop up in cameo roles.

The movie begins to falter, though, in its final act, when the whole axe murdering thing takes over. The comedy level decreases dramatically, and So I Married an Axe Murderer turns into a thriller. But this a minor complaint for a very entertaining movie.

Audio: The film is presented in 2-channel Dolby Surround. This track falls under the heading of "gets the job done." It's no great shakes, but it serves the movie well. There are also Spanish and Portuguese (!) tracks.

Video: Wow. For a film that wasn't exactly begging for a first rate video transfer, this is stunning. So I Married an Axe Murderer is presented in anamorphic widescreen (1.85:1) and it looks fantastic. The print is pristine and sharp. No complaints here. Oh, there's also a pan and scan version on the flipside, but really, who cares?

Extras: Sadly, this is where the disc falls behind. There are no real extras to speak of. Not even production notes (though to be fair, the DVD does come with a short booklet detailing the production, but this barely scratches the surface). A commentary with Myers would have been ideal here, especially considering how entertaining he was on both Austin Powers discs. A humorous teaser trailer is the only real extra here.

Conclusion: If you've never seen So I Married an Axe Murderer, and you're a fan of the Austin Powers series, you'd be well advised to check this out. This is a great presentation of a comedy classic.
Please help support our site by buying this DVD title through this link. Thank you kindly.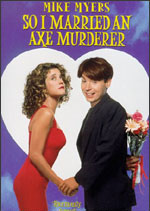 Purchase This DVD
Story / Content



Audio



Video



Extras