SOLDIER OF ORANGE
Reviewed August 13th, 2002 by David Nusair
Soldier of Orange, a war film by Paul Verhoeven, operates on the premise that each viewer will be aware of several key historical details relating to the storyline. Without that implied knowledge, itís impossible to ever really get into the movie due to overwhelming confusion.

The film takes place during the Second World War, and Holland is attempting to enter the fight. They quickly realize they have no chance against the Germans, and surrender. Meanwhile, weíre introduced to a group of spoiled fraternity kids, lead by Rutger Hauer. After an arduous initiation sequence, the gang begins to have fun by playing tennis and commiserating. But once the war starts, they join the fight and are disheartened when they learn their country has admitted defeat. They receive word, though, that many former soldiers are making their way to England and taking up the fight there. Hauer decides to go that route, and winds up working as a spy for the British empire.

Sounds interesting and exciting, right? Well, it could have been, had Verhoeven bothered to provide any background information in a scroll at the beginning of the flick. As it was, I barely managed to follow the majority of the movie and indeed, at a running time of around 150 minutes, only about a quarter of Soldier of Orange passed by without some serious head scratching. That absurdly long length easily prevents the film from ever becoming anything more than a mild curiosity for Verhoeven fans.

But the movie does have its followers, most of whom must have been aware of the events surrounding Hollandís participation in World War II. Still, the film should have at least remained watchable, especially given the fact that Paul Verhoeven is behind the camera. Known for his notoriously over-the-top action flicks here in America (Total Recall, Basic Instinct), Soldier of Orange showcases a remarkably restrained side of the director. And his pound-you-over-the-head sensibility would certainly have livened things up a touch; alas, the one time he chooses the subtle route, heís stuck with exceedingly boring material.

The performances are good, I suppose, but itís hard to care when the subject matter is as dull as it is here. Fans of Verhoeven will probably rush to rent this no matter what I say, but really, this flick could have been directed by anyone. Stick with his Hollywood classics, instead.

Audio: Soldier of Orange is presented with a DD 1.0 soundtrack (Dutch language) and itís rather lousy. Expectedly, the sound remains in the center speaker, but it sounds awfully muffled. This is especially noticeable in sections where the characters speak English.

Video: This 1.66:1 anamorphic transfer is a lot better than the audio, but thatís not saying much. Itís grainy and there are quite a few instances of film related artifacts (such as those circular reel change indicators), but itís otherwise acceptable.

Extras: The only major extra here is a commentary track with Paul Verhoeven. If youíve listened to any of his other commentaries, you know what to expect here. He gives a great deal of historical information, so itís almost preferable to listen to the commentary first and then watch the film! Also included are a teaser trailer, some cast/crew bios, and a gallery of photos.

Conclusion: Avoid Soldier of Orange unless you are explicitly aware of the historical facts surrounding Hollandís involvement in WWII. Or, at the very least, listen to the commentary first.
Please help support our site by buying this DVD title through this link. Thank you kindly.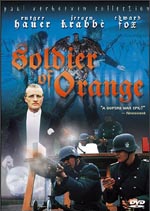 Purchase This DVD
Story / Content



Audio



Video



Extras