SOME LIKE IT HOT: SPECIAL EDITION
Reviewed November 5th, 2001 by David Nusair
The American Film Institute recently declared Some Like It Hot to be the funniest movie ever made. And while that may have been true upon its release (which was some odd 40 years ago), it's certainly not true now. It's a different kind of funny – based mostly upon double entendres and dry one-liners – more likely to elicit smiles and chuckles rather than full-fledged belly laughs.

Tony Curtis and Jack Lemmon star as two struggling musicians who find themselves a target of the mob after inadvertently witnessing the St. Valentine's Day Massacre. They decide to go on the lam, but quickly realize that they haven't got enough money to get very far. So, they decide to take a job that will take them to Florida – the only catch is the job is open to women only. Enter their new personas: Josephine and Daphne. As women, Lemmon must fend off the unwanted affection of an older man while Curtis is forced to assume yet another identity (a dashing young playboy who sounds suspiciously like Cary Grant) when he meets a beautiful singer in the troupe (played by, of course, Marilyn Monroe).

Some Like It Hot is breezy, fun entertainment that'll pass the time, but won't stay with you like, say, The Apartment. But then, I don't think it was intended to be anything more than a good time at the movies. The performances are all top-notch, particularly Lemmon in his star-making role – it was after Some Like It Hot that he became a member of that elusive A-list.

The most notable thing about Some Like It Hot, though, is the astonishingly intelligent screenplay (which is filled to the brim with witty rejoinders and clever snippets of dialogue). In this day and age, where what passes for screen comedy includes the likes of Freddy Got Fingered and American Pie, it's refreshing to watch a flick whose laughs don't revolve around bodily functions. Though as I mentioned at the outset of this review, the laughs aren't exactly fast and furious – in fact, they're almost non-existent – but the relaxed atmosphere and laid-back pace will keep a smile on your face as you watch.

Audio: Some Like It Hot is presented with both a 2-channel dolby soundtrack and a DD 5.1 (!) track. The difference between the two is barely noticeable, though some artificial ambient sounds seem to have been thrown into the 5.1 mix. Some Like It Hot is most certainly not a flick that warranted a re-do in the soundtrack department. However, both are clear and crisp – which is really all one could ask for such an old movie.

Video: This non-anamorphic 1.66:1 transfer is quite impressive, again given the age of the film. Speckles and other age-related artifacts are kept to a minimum and the DVD itself is free of compression related problems. A solid transfer.

Extras: This edition of Some Like It Hot is billed as a "special edition" and it certainly has enough extras to warrant that title. First up is a 30-minute conversation with Tony Curtis, hosted by Leonard Maltin. While it's not exactly fascinating, it is incredibly informative – with Curtis touching upon everything from casting to working with Marilyn to wearing a dress. Up next is something called "Memories from Sweet Sues" – which features four actresses that appeared in the film reminiscing about the experience of working on the film. This 11-minute featurette is pretty interesting, though not terribly informative. They essentially watch clips of the movie, and comment about what's happening. Next is the "Virtual Hall of Memories" which is basically just photographs of the various stars and behind-the-scenes footage accompanied by music. Lastly, there are some original advertising materials and trailers.

Conclusion: Some Like It Hot is an enjoyable comedy, but it's not quite the masterpiece it's often made out to be.
Please help support our site by buying this DVD title through this link. Thank you kindly.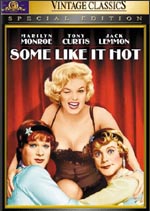 Purchase This DVD
Story / Content



Audio



Video



Extras