THERE'S SOMETHING ABOUT MARY
Reviewed September 6th, 1999 by Staff
The brothers Farrelly (Kingpin, Dumb and Dumber) have created, in There's Something About Mary, a cinematic rarity these days: an extremely funny film. This is their masterpiece.

It is a very silly film about love, obsession and an ill-fated dog named Puffy. In the film, Ted (Ben Stiller) finds himself fondly remembering Mary (Cameron Diaz), his almost prom-date. At the advice of a friend (the always hilarious Chris Elliot), Ted hires a private investigator (Matt Dillon, proving quite capable in a comic turn) to seek out Mary. The investigator falls for Mary and much humor and back-stabbing ensue.

This film rises above Peter and Bobby Farrelly's previous efforts due to the excellent cast, and the heart which underlies the over-the-top humour. Viewers unfamiliar with the Farrellys might be put off by some of the low brow humor, but the film is too good to be dismissed for a few jokes about bodily functions.

The DVD video quality is good, but not terribly noteworthy. The non-anamorphic, 1.85:1 aspect ratio image is good, with plenty of detail, and colors looking bright.

The 5.1 mix would suit a viewer that had forgotten to hook up the surrounds and sub. The music and dialogue are mixed well across the front speakers, with very little else. Given that Mary is a dialogue and slap-stick driven comedy, the sound mix takes nothing away from the experience.

As for extras, the Farrellys do a laid back, conversational commentary track which focusses more on the experience of making the film, than their techniques. The directors spend much of the track discussing actors and locations. There is also a brief reel of out-takes, and a karaoke number of "Build Me Up Buttercup" by the Foundations with Puffy bouncing over the lyrics. Alternate audio tracks include English and French surround mixes. There are Spanish captions, and English captions for the hearing impaired. The animated menus include Puffy grabbing the selected entry.
Please help support our site by buying this DVD title through this link. Thank you kindly.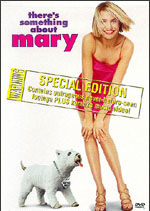 Purchase This DVD
Story / Content



Audio



Video



Extras