SOUND OF MUSIC, THE
Reviewed August 14th, 2000 by John Randall
I have to admit – its been some time since I've seen this movie before the DVD release. In fact, after viewing it, I'm not sure if I had ever seen the whole movie. If that is true, then I was truly missing out.

Way back in 1965 Robert Wise directed this wonderful musical starring Julie Andrews (Mary Poppins herself) and Christopher Plummer.

The movie is set overseas in beautiful Austria where Julie Andrews plays Maria, a nun, who takes the job of a governess for seven children for Captain Von Trapp (Plummer).

Without giving too much away, the basic plot is how the seven children adapt to Maria's way of teaching: mostly through song.

The movie contains some of the most unforgettable tunes including "Do a deer – a female deer" (Do Re Mi), "These are a few of my favorite things" and of course "The hills are alive with the sound of…. Griswald" (oops wrong lyrics – that's from National Lampoon's European Vacation).

With that being said, this is a wonderful family movie – with a most unforgettable ending that I unfortunately didn't even know was there until viewing the DVD.

The video is presented in 2.20:1 widescreen and is 16x9 enhanced. The transfer is awesome with regards to its age.

The audio is encoded with 6 separate channels but is actually 4.1. This movie sounds as good as it looks. Dialogue and music sequences sound real good.

Did I forget to mention this is a 2-disc DVD set? Well Fox did it again!

Extras include audio commentary by Robert Wise (the director), interviews with the cast & crew, "The Sound Of Music: From Fact To Phenomenon" documentary, "Salzburg: Sight & Sound" featurette which is old but fun to watch, a still gallery, production notes, some trailers, and lastly TV and radio spots.

This DVD set is great! Great extras, great audio and video and better yet an awesome movie with awesome songs!
Please help support our site by buying this DVD title through this link. Thank you kindly.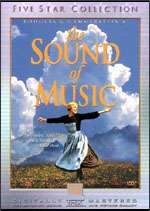 Purchase This DVD
Story / Content



Audio



Video



Extras