SOUTH PARK: THE COMPLETE FIRST SEASON
Reviewed November 17th, 2002 by Dan Jones
"Kathie Lee Gifford in South Park! Oh my God! This is our chance to make a name for ourselves; to show that were not just some piss-ant white bred mountain town.'"

What can you say about South Park? Here is a show that loves to set new standards for what you can get away with on basic cable television (anyone see the "It Hits The Fans" episode last year with the gang saying "shit" 162 times?). A show where the satire flows like water, as does what some would consider "filth," in the form of extremely biting comedy often with prejudice, sexist, racist, and religious undertones. Yet, none of this is meant to offend, rather South Park gives us twenty-plus minutes a week to not take things so seriously, to sit back and laugh at how four elementary school kids take to their strange, strange surroundings.

I have been a big fan of South Park since the beginning. The show continues to make me laugh out loud on a weekly basis due to Stone and Parker being able to keep their writing fresh and consistent, something that can't be said about many shows of South Park's age (now in its 6th season). I hope most people don't take the show that seriously; its satirical yes, and it does deal with important topics, but it's all done in fun, it is still just a cartoon at its most basic of levels.

It's nice to see South Park finally coming to DVD the way it should have all this time, in complete seasons rather then "best of" sets as chosen by god knows who. While I would like to say that Warner really did this set right, packing in a nice deal of extras and allowing it to be a bit over the top in true South Park form, I must say what they have delivered is a disappointment. More on that later, let's take a look at the specs:

First off, here's the thirteen episodes from season one: "Cartman Gets an Anal Probe", "Volcano", "Weight Gain 4000", "Big Gay Al's Big Gay Boat Ride", "An Elephant Makes Love to a Pig", "Death", "Pinkeye", "Damien", "Starvin' Marvin", "Mr. Hankey The Christmas Poo", "Tom's Rhinoplasty", "Mecha-Streisand", and "Cartman's Mom is a Dirty Slut".

Video wise, twelve of the thirteen episodes included here are in their standard 4:3 aspect ratio, with "Big Gay Al's Big Gay Boat Ride" coming in at an interesting 1.78:1 non-anamorphic widescreen ratio. Coming in with relatively low expectations, I must say the transfer still left me disappointed. The overall presentation is too bright making any color robustness quite washed out. Moreover, it is clear that little was done for the DVD transfer, besides just the transfer (from what kind of source I'm wondering). Compression artifacts come up more then I expected from a picture with relatively low detail (as compared to say, "The Simpson's"). When comparing these episodes to the quality of the "best of" sets Rhino released, I must say Warner dropped the ball somewhere as the former episodes look much better. Quite disappointing.

Audio wise, we are given a serviceable Dolby Surround 2.0 track, which does little to expand the normal stereo field (occasionally we do get some minor surround action). Yet, dialogue is for the most part crystal clear and detailed. Nothing to write home about, but I doubt anyone will be disappointed with it, it is a cartoon. Also included are English closed captions, and subtitles in Spanish, French and English.

As for extras, frankly Warner dropped the ball big time (yes, more so then the video). Let's get right into it.

According to the initial press release for this much anticipated set, Warner promised audio commentaries for every episode courtesy of the creators, Parker and Stone. Well, the set is in my hands and there are definitely no audio commentaries, rather we're given brief introductions before each episode that are the same as on the "best of" sets; nothing new. To make matters worse the promised audio commentaries do in fact EXIST, yet it seems Warner was worried about the content included in them. Yes, you heard that correct; Warner was worried about offending people who buy SOUTH PARK sets??? Completely and totally ridiculous. So, the only way to get these commentaries is via 5 audio CDs by sending in a mail-in certificate (from ComedyCentral.com) for the price of shipping, or buy buying the set through Comedy Centrals website (CDs will be included).

I cannot stress enough how ridiculous this decision is by Warner. Keeping a wholesome image is one thing, but when you own the DVD rights to a show like South Park do not find ways to alienate yourself from the people that are loyal to the show at hand. This is just mind-blowing, sorry for the ranting.

What we're left with in ways of extras have all been aired before, with a handful of promos for the first season as well as TV spots for other comedy central shows. We also get two music videos for "O Holy Night" and "O Little Town of Bethlehem." Rounding it out we get the short: "A South Park Thanksgiving" from The Tonight Show with Jay Leno, and a clip from the '97 Cable ACE Awards.

Overall, this set could have been so much better. With video transfers that show little effort and the removal of the sets more redeeming extra, its hard to recommend the set, but hard to not... Unfortunately, there is a 95% chance that this is going to be the only season one release of South Park on DVD; so unless you are going to wait for the next video format, if you are a fan, you will probably pick this up. Warner has just about jacked up future releases by taking this approach of keeping audio commentaries tame (this is Matt Stone and Trey Parker, the creator's of South Park and they cannot freely talk about it?). Unless they go as far as to re-release season one with commentary they have alienated their audience. If they do not go about season two differently, you can just about kiss the series goodbye on DVD for supplying anything more then the episodes.

The content of the episodes presented here are great, the censorship of applicable content is not. Truly frustrating.
Please help support our site by buying this DVD title through this link. Thank you kindly.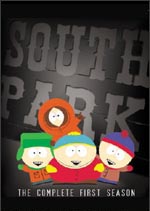 Purchase This DVD

Title Has Easter Eggs

Story / Content



Audio



Video



Extras