SOUTH PARK: VOLUME 2
Reviewed August 29th, 1999 by Staff
An Elephant Makes Love to a Pig
The kids efforts to splice the genes of Cartman's pot-bellied pig and Kyle's pet elephant result in abomination, and several Loverboy references.

Death
Stan's aged grandfather tries to convince the boys to assist him in his own demise. In a pre-cursor to this summer's film, the parents protest the Terrance and Phillip show.

Pinkeye
Explores the dangers of mixing Worchester sauce and embalming fluid.

Damien
The son of Satan finds his own reasons for hating Pip. Jesus and Satan duke it out in a pay-per- view event. Cartman has enough pie.

South Park Volume 2 betrays the fact that the DVD series was in fact 6 2-episode video tapes. The first two episodes on Volume 2 are plagued by the same audio snaps which occur on Volume 1. Also, the intros for the first two episode intros are the "fire side chats" from Volume 1, and the latter two intros have the western style of those on Volume 3.

The video quality from the episodes is good. Colors are bright, and the detail is crisp, considering that the show is supposed to be animated construction paper. The video quality on the intros is fair.

The sound quality for the first two episodes is affected by intermittent snaps and pops. This sound does not occur on the latter two episodes. The mix is Dolby digital 2.0.

Series creators Matt Stone and Trey Parker introduce the first two episodes in amusing "fire side chats" and the third and fourth episodes in the form of a western kids show. Comedy Central adds a chapter advertising other Comedy Central offerings.
Please help support our site by buying this DVD title through this link. Thank you kindly.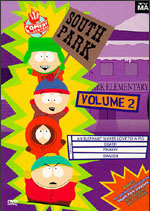 Purchase This DVD
Story / Content



Audio



Video



Extras