SPACEBALLS
Reviewed April 30th, 2000 by David Colby
Mel Brooks = a wannabe George Lucas? Could be. What do you get when you base a spoof movie on the classic Star Wars add in a little Startrek and Battlestar Galactica? You get one funny movie! One that the whole family can enjoy with no nudity and very mild language. This movie will have you rolling on the floor and cheering for the hero's, one of which is named "Barf." For crying out loud they are flying around in a winnabego! With stars like Mel Brooks, John Candy and Rick Moranis this can only spell funny! The question that we all wish to know is how well of a job did MGM do with transferring this movie to DVD?

The video was well done better then you will ever see on VHS. The only problem was it looked kind of soft, like you were viewing the movie through a slightly smudged piece of saran wrap! Of course it blows away the VHS and TV versions that this reviewer has seen in the past don't get me wrong there. It is just not as clear as hoped. But what you will enjoy is the Widescreen presentation, no ratio is given, but it is the original theatrical format.

The audio was a real treat. A movie of this quality one would not expect a Full Dolby Digital 5.1 sound track, but that is exactly what you will get. The audio was crystal clear. There is more bass in this movie then you can shake a stick at and you will not miss any little noise! Hearing it for the first time in a full 5.1 was entrancing. You immediately will be lavished in a supreme audio mix.

While not loaded with extra's you do get some very very hilarious menus that you must explore. You are also treated to a full audio commentary by Mel Brooks, which is probably as entertaining as the movie itself. To top it off you get special behind the scenes footage and the original theatrical trailer. Overall you can't beat this movie for a good laugh. If you know where to look, you can get this little number for under $17. If you enjoy Mel Brooks films you will want to add this one to your collection.
Please help support our site by buying this DVD title through this link. Thank you kindly.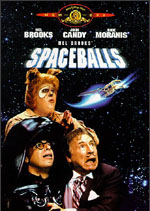 Purchase This DVD
Story / Content



Audio



Video



Extras