SPACECAMP
Reviewed November 19th, 2001 by John Randall
Thank you so much Anchor Bay! I frankly love this movie. It may not be awesome acting, awesome special effects or anything like that, but what it does is remind me of my youth. As a youngster, I did get to go to Space Camp in Alabama so I guess this film has a special meaning to me. About 5 years ago I hunted down a copy of the film on VHS since it had gone out of print. Now I can toss out that old version since I have my hands on the DVD.

One thing this film does have it a bunch of well-known actors. First up is the adults: Kate Capshaw (Indiana Jones and the Temple of Doom) and Tom Skerritt (too many to name). Kate Capshaw plays Andie, a down-on-her-luck NASA astronaut that goes to work for Space Camp for the summer after not getting picked for a mission. I guess thatís what you get when you make a deal with your hubby! Tom Skerritt plays Zach, the director of Space Camp and also Andieís husband.

The kids are where this movie really shines. Weíve got young versions of some of the hottest stars including Lea Thompson (Back to the Future) who plays Kathryn, Tate Donovan (Love Potion No. 9) who plays Kevin, Larry B. Scott (Revenge of the Nerds) who plays Rudy, Kelly Preston (Jerry Maguire) who plays Tish, and Leaf Phoenix aka Joaquin Phoenix (Gladiator) who plays young Max.

The movie pretty much is about a group of kids who attend Space Camp for the summer. During their training, Max befriends a robot who fixes it so this group gets to sit in the shuttle during an engine test of the shuttle. Unfortunately, the robot also sends the group into space after hearing Max crying and wishing he was in space. From there we see how the group survives being in space and how they figure out how to get back home. The film also has more Star Wars references then all of the Jay & Silent Bob movies combined.

The movie has problems, but most of them can be easily overlooked. First off, NASA isnít going to be putting any kids inside the shuttle during any test, and kids are not going to be able to manually bring the shuttle back to Earth. There is more, but most are small and relate mostly to those who have actually been to Space Camp.

Itís an enjoyable movie and I encourage people to view it.

The DVD release has both a 1.85:1 anamphoric widescreen and a full-frame transfer. I can say without a doubt that the movie never looked better, but it is not perfect by any means. Lots of grain and scratches.

Thought I wished that they would have redone this movie in 5.1, the Dolby Digital 2.0 soundtrack isnít half bad. In fact the quality of the audio was much better than the video.

The only extra is a trailer. Whereís the hour long documentary? Oh well.

Overall this is a fun film and shouldnít be taken very seriously. Kudos to Anchor Bay for releasing it. Recommended.
Please help support our site by buying this DVD title through this link. Thank you kindly.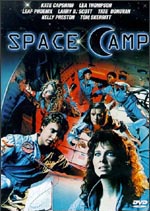 Purchase This DVD
Story / Content



Audio



Video



Extras