SPACE COWBOYS
Reviewed June 10th, 2001 by Len D. Martin
Cast: Clint Eastwood (Dr. Francis D. "Frank" Corvin), Tommy Lee Jones (William "Hawk" Hawkins), Donald Sutherland (Jerry O'Neill), James Garner ("Tank" Sullivan), James Cromwell (Bob Gerson), Marcia Gay Harden (Sara Holland), William Devane (Eugene Davis), Loren Dean (Ethan Glance), Courtney B. Vance (Roger Hines), Rade Serbedzija (General Vostow), Barbara Babcock (Barbara Corvin), Blair Brown (Dr. Carruthers), Jay Leno (Himself).

Director: Clint Eastwood.

Story: In 1958,, the brash young fly boys of "Team Daedalus", Frank, Hawk, Tank, and Jerry, were ready to go into space. They were trained and they were ready, but, because they had a disagreement with their commanding officer - Bob Gerson, they were replaced by a chimp! This humiliated the "Team" and they never forgot it. Now, it is 40 years later and a Russian "Communications" satellite is out of control and in 5 weeks will fall back to Earth. In order to bring the satellite back under control, an old on-board computer, which the Soviets stole from the U.S. military, needs to be reactivated and this can only be done by "Frank" Corvin since he designed it for Skylab. Instead of teaching a qualified astronaut how to reactivate the computer, Frank insists on going into space to personally re-activate it and also insists that the members of "Team Daedalus" be sent with him.. Corvin wants to give his old group, despite their age, their long-denied chance to fly into space. He rounds them up and they begin their intensive shuttle training. When they are finally launched, and encounter the satellite a surprise that they had not counted on awaits them.

Audio: Presented in English and French Dolby Digital 5.1.

Video: Presented in Anamorphic Widescreen 2.35:1 - Enhanced for 16x9 televisions with Subtitles in English and French.

Extras: DVD Player Features: "Back At The Ranch" - On Location with Cast and Crew and NASA Consultants; "The Effects" - Conversations with Visual Effects Supervisor Michael Owens and His Collaborators; "Tonight On Leno" - Expanded Version of The Tonight Show with Jay Leno Sequence; "Up Close With The Editor" - A Conversation with Joel Cox; Interactive Menus; Cast/Director Career Highlights; Theatrical Trailer; Scene Access; DVD-ROM Features: Space Shuttle Challenge - Control Your Own Orbital Mission; Links To Original Theatrical Web Site; Theatrical Trailer Sampler.

Comments: A great film and an excellent cast. Watching these old "Space Geezers" show the young astronauts they still have it is a treat. Color and sound are excellent with rich bass from the 5.1 sound. Buy this for your collection - you will not be disappointed.
Please help support our site by buying this DVD title through this link. Thank you kindly.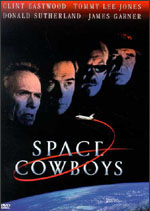 Purchase This DVD
Story / Content



Audio



Video



Extras