SPY KIDS
Reviewed October 21st, 2001 by Brian White
So apparently director Robert Rodriquez was given a blank cheque by Disney to put all kinds of eye candy on the screen in Spy Kids. This looks like a really expensive movie, but it really makes sense. There arenít a whole lot of all-out action movies in the MI:2 or James Bond vein that can be enjoyed with the whole family. While a lot of fun to watch, the violent situations are a little harder for the kids to put into context. Spy Kids delivers as much action, if not more, than the best action movies, and itís for everyone.

So these normal kids, with good looking, seemingly wealthy parents, are having your typical kid blues. The sister is skipping class; the boy is a geek with no friends. All of a sudden, the parents disappear, and their identities are revealed to the kids. With no one to trust, the kids take it upon themselves to save their parents. So there is a little heart here to justify the action, but it isnít very strained. Hereís a movie that shows off your system, and you can actually show it to the kids, in fact theyíre who itís for. Speaking of heart, thereís a cool Danny Elfman song sung by Alan Cummings. He reminded me a lot of Jack Skellington. Hmmmmmmmm... Alan Cumming as Jack. Any Broadway producers reading?

Did I say action? This thing is crammed packed with some very cool action sequences. There are all kinds of CGI stuff making actors fly around and bad-guy, robot, thumb-men attack. Itís really an eyeful, with the special effects house really doing a great job.

The video transfer is really top-notch. This is a big Hollywood movie, and the disc really shows that. The 1.85:1, anamorphic transfer would do Mr. Bond proud, so itís more than adequate for these tykes. Very good indeed.

The 5.1, Dolby Digital mix is everything youíd expect from a big, flashy, action movie. In fact, itís even more than youíd expect in places, in keeping with the over-the-top nature of this grand adventure. The surround mix is very dynamic, and cool. Note: there does seem to be a defect on the main menu on at least some discs where sound will only be heard out of one speaker.

For extras, you get some trailers. There are some funky animated menus, but thatís it. I saw all those ads about a Spy Kids Special Edition in theaters last summer. I didnít see the ďnewĒ scenes here, so I suspect thereís a Spy Kids SE coming down the pipe. If thereís any deterrent from buying this from your kids, itís that.
Please help support our site by buying this DVD title through this link. Thank you kindly.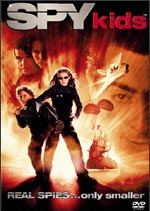 Purchase This DVD
Story / Content



Audio



Video



Extras