STAR TREK VI: THE UNDISCOVERED COUNTRY
Reviewed September 30th, 1999 by Staff
On a thematic level, Star Trek VI: The Undiscovered Country, is Star Trek at its best. Through science fiction, the late Gene Roddenberry and his writers commented on '60s politics. The sixth picture, and the last to star the entire original cast, is a metaphor for the opening up of the former Soviet Union. Star Trek 6 was put together quickly as part of Star Trek's 25th anniversary. Despite the excellent plot, it was one of the least successful films in the series.

Federation foes, the Klingons, have suffered a natural disaster: the explosion of Praxis, their primary source of energy. The Federation can either take advantage of the situation and destroy the Klingons, or reach out to them. Where the hugely successful First Contact and Wrath of Khan are wall to wall action, The Undiscovered Country finds our heroes dining with Klingons and having conversations. The fledgling alliance is destroyed when Captain Kirk (William Shatner) and Doctor McCoy (the late DeForest Kelley) are framed with the assassination of the Klingon Chancellor. The duration of the film is spent finding the real assassins. Star Trek VI is a fine political suspense. Fear not, there is a space battle at the finale.

Director Nicholas Meyer returns after a three-film sabbatical. Leonard Nimoy (Spock) co-wrote the film with Meyer. Christopher Plummer is brilliant as the Shakespeare quoting Admiral Chang, Kirk's Klingon nemesis. It is interesting to see Sex and the City's Kim Cattrall with Vulcan ears. ILM created some excellent visuals for the film, most notably the Praxis explosion, which is recycled in Star Wars Special Edition, though it appears sideways.

Unfortunately, Paramount didn't give The Undiscovered Country an anamorphic transfer. The 1.85:1 print is generally quite good, if a little grainy. Strangely enough, The first four films were in such poor condition that they require the full treatment, and anamorphic transfers are now the norm. Hopefully, Paramount will revisit The Undiscovered Country.

The 5.1 mix, one of early Dolby digital 5.1 cinematic mixes, is quite good; but where's the subwoofer in the Praxis explosion? The house should have shaken.
Please help support our site by buying this DVD title through this link. Thank you kindly.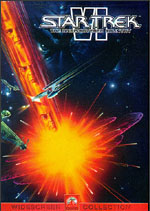 Purchase This DVD
Story / Content



Audio



Video



Extras