STANLEY KUBRICK: A LIFE IN PICTURES
Reviewed July 11th, 2001 by David Nusair
Stanley Kubrick - the director behind such acclaimed films as 2001, A Clockwork Orange and The Shining - is perhaps the most famous director that people know very little about. A Life in Pictures, the new documentary including in the re-issued box set, attempts to explore Kubrick's life, through interviews, archived footage and clips of his movies.

Put together by his longtime associate (and son-in-law) Jan Harlan, A Life in Pictures runs about 2 hours and 20 minutes - but strangely, this doesn't seem long enough. Approximately 10 minutes is devoted to each of his films, but mostly, they seem to just scratch the surface. While a lot of interesting little details are revealed - how they managed to accomplish those amazing weightlessness shots in 2001 - there's an equal number of riddles that are left unanswered.

But there's also a lot of stuff here Kubrick fanatics will be amazed by. Childhood footage of Kubrick fooling around with his sister, a radio interview in which he discusses the current (well, current to the '60s) state of Hollywood, home movies of Kubrick playing with (and talking to) his children - this is all fascinating. Harlan has also managed to gather a huge roster of various people that have worked with Kubrick (and even famous admirers, such as Woody Allen and Martin Scorsese). In particular, Malcolm McDowell's remarks regarding his relationship with Kubrick are especially telling.

A Life in Pictures is only available through this box set. Is it worth it? Depends on how much you like Kubrick. If you're a fan, this film is a must. It'll still interest a non-fan, but probably not to the extent that a Kubrick follower would enjoy it.

Audio: A Life in Pictures is presented with a DD 5.1 soundtrack. Since it's a documentary and the majority of the film consists of people talking, a good chunk is localized in the center speaker. Occasionally, the surrounds will come alive during clips of his movies. But the dialogue is as crisp and clear as you could ask for, so it's hard to complain.

Video: This is an odd one. Non-anamorphic, the doc has been shot with a ratio of 1.78:1, but (and this is where it gets weird) the film clips and archived footage are of various ratios (ranging from full-screen to 2001's widescreen). But it looks quite good. The interview stuff is especially crisp, and the old home movie footage is surprisingly clear.

Extras: Zip. There are English, French, Spanish and Portuguese subtitles and that's it. But the documentary really says it all, so extensive extras aren't really called for.

Conclusion: While not an intimate portrayal of the man, A Life in Pictures does pull back the curtain just enough for us to catch a glimpse of this genius at work.
Please help support our site by buying this DVD title through this link. Thank you kindly.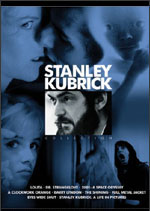 Purchase This DVD
Story / Content



Audio



Video



Extras