STAR TREK II: THE WRATH OF KHAN (DIRECTOR'S EDITION)
Reviewed July 25th, 2002 by John Randall
Ohhhhh how I love this film. It has it all! Great sci-fi story, great special effects (for its time), and an evil evil villan!

I am not going to waste much time telling you the plot – fans know the plot because they've seen the flick a few billion times like me. However, if by some chance you have not see it (I feel for ya sheltered people) – you can read my review of the original DVD release by clicking here before moving on to this review.

Ok, so we finally get to drool over a two-disc director's cut of the film! The difference you ask? Very little. Many people know that network TV used to air extended cuts of scenes and some of them are not incorporated back into the film. The biggest addition to those who have not see any of the subplots that the networks showed – basically we find out why Scottie was so upset over the young crew member dieing. Come to find out it was Scottie's nephew. Other additions – the movie runs a whole 4 minutes longer – are mostly just additional lines.

I guess the big thing about this DVD release is not that the film itself it better, but the goodies on disc 2, but we will get to that in a minute.

The video is presented in 2.35:1 anamorphic widescreen is just a tad bit better than the original release. With that said, both DVDs look so much better than the VHS counterpart does! Face it - the film is pretty darn old.

The audio is once again presented in Dolby Digital 5.1 and is just as flat as the original release. Dialogue and music sound good, but bass is weak and the whole soundtrack is practically mono. Love that music score though! An English and French 2.0 track is also available.

As everyone knows, what would a two-disc special edition be without lots and lots of goodies? How about some goodies that actual have good content?

First up are two commentary tracks. The first one is by director Nicholas Meyer and then a text commentary by Michael Okuda the co-author of The Star Trek Encyclopedia. Both tracks are top notch. The favorite of the two was Meyer's as his was very informative.

Next up was "The Captian's Log" which is basically 30 minutes of new interview material with a host of people. Some of the topics were a bit weird - but better than your average boring interviews, that are so common on DVDs right now. Look for Nicholas Meyer, Shatner, Nimoy, Montalban and more as they discuss how Star Trek II almost didn't even make it past the first script.

The next featurette is "Designing Khan" (just over 20 minutes) and "Visual Effects of Star Trek II" (just under 20 minutes) which goes into the look of the second motion picture and how they did many of the special effects. It sure would be nice if more films would lay off the heavy use of the computer-generated effects. Models sure do look more realistic sometimes. I guess that is the biggest think about Star Wars: Episode 1 -- the Queen's ship looking so fake. Anyway...

Next is about 10 minutes of original interviews that were made back when the film was first theatrically released. Then "The Star Trek Universe: A Novel Approach" was something that I guess caught me a bit off guard. Basically it was 20 minutes of two "expanded universe" authors who talked about Khan's adventures before he met Kirk on the original "Space Seed" episode and then someone else talking about the Kobayashi Maru. Was different.

Lastly, there is a bunch of storyboard archives from various scenes of the film and of course, the great theatrical trailer that is always fun to watch.

Overall, this is a great two-disc edition; however, it is very hard to recommend to someone who is not a die-hard fan that already owns the original release. So, if you love this film, have the old disc, Ebay it - and get this one instead. If you do not have the old release, get this one. It is a great film and lots of fun.
Please help support our site by buying this DVD title through this link. Thank you kindly.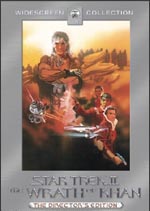 Purchase This DVD
Story / Content



Audio



Video



Extras