STAR TREK: THE NEXT GENERATION – SEASON 1
Reviewed March 18th, 2002 by John Randall
Ok, take me back to the eighties and let me even try to figure how many hours I spent glued to the TV every week watching Star Trek: The Next Generation. Yep, I was one of those people with tons of Star Trek posters, autographs and everything under the sun hanging up in his room – and yes, I went to conventions! I guess a lot of that slacked off a bit over the years – but to me Star Trek was all about imagination when I was younger.

Star Trek: The Next Generation aired from 1987 to 1994 with a total of 178 episodes!

When I learned that Paramount was going to indeed release all 7 seasons of this very popular show I was more than excited! To make it even better, they have decided to release the entire show by season.

So here we are, the first 25 episodes: Encounter at Farpoint, The Naked Now, Code of Honor, The Last Outpost, Where No One Has Gone Before, Lonely Among Us, Justice, The Battle, Hide and Q, Haven, The Big Goodbye, Datalore, Angel One, 11001001, Too Short a Season, When the Bough Breaks, Home Soil, Coming of Age, Heart of Glory, The Arsenal of Freedom, Symbiosis, Skin of Evil, We'll Always Have Paris, Conspiracy, and The Neutral Zone!

I really enjoyed seeing Encounter at Farpoint (both parts 1 and 2 are combined and included) after all these years. You can really see the difference in quality of the episodes over the years. Don't get me wrong, it still was a very good show – it just progressed very nicely as the seasons went on. The characters and production was very new to everyone involved in the early days.

There were some great moments in the first season too. Not only were we introduced to the infamous "Q" (John de Lancie), but also we get to see Data's evil brother Lore for the first time.

Going back through some of these episodes reminded me how much I enjoyed watching them when I was younger - and now by year's end I'll have them all on DVD to watch for a lifetime.

The video on all the episodes is presented in their original 4:3 (full screen) aspect ratio. Quality really does vary, but generally it makes cable and VHS look pretty darn pathetic. In the early days, they did not use a lot of computer generated effects which are a bit more noticeable now than they did back then. As the seasons are released, I'm sure the quality of the episodes presented on DVD will also increase as well.

To me the audio is where this set really shines. Each episode has been remixed in Dolby Digital 5.1 and just rocks compared to watching them on TV. The first thing you will notice is the opening sequence title music which just sounds sweet and has some bass in there. The mixes are far from modern day soundtracks, but kudos goes out to Paramount for taking time out to take care of this series.

Some people might be a little disappointed with the lack of extras in this set. However, please remember that the set IS an extra. Basically on the last disc you have four featurettes (totally just over an hour) called The Beginning, Mission Profiles, The Making of a Legend, Memorable Missions. Each section seems to be made up of various old and new interviews and behind the scenes footage. The Beginning gives us information on just that, the conception of the series and its trials and tribulations with getting a reasonable budget and an honest backing from Paramount. Mission Profiles deals with the casting process that went into creating The Next Generation. This featurette shows what went into selecting the actors for the shows and is quite an interesting watch. The Making of a Legend featurette delves into the shows various sets and affects. Finally Memorable Missions gives the cast a chance to remember their favorite moments from throughout the show. I must say I actually enjoyed all these featurettes, but it may just be a lot of fluff for some people.

That about does it for extras except the menus are pretty cool on the discs and there is a cheesy little fold-out booklet with pictures, short bios of the characters and an alphabetical list of episodes in season 1.

I suppose I need to also mention something about the unique case each season is going to be packaged in. I actually like it as they will all store nicely together on a shelf somewhere. Each sturdy cardboard box is silver with a different color writing for each season.

Overall, I was personally impressed on this set from a fan's point of view and also as a DVD critic. The set is so highly recommended and will offer you so many hours of quality family enjoyment.
Please help support our site by buying this DVD title through this link. Thank you kindly.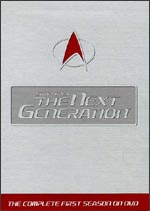 Purchase This DVD
Story / Content



Audio



Video



Extras