STAR TREK: THE NEXT GENERATION – SEASON 2
Reviewed May 6th, 2002 by John Randall
I have to admit that I went through the episodes of The Next Generation Season 1 in no time flat and could not wait till Season 2 finally came out. Finally, more episodes to watch endlessly!

The only real bad about this collection versus Season 1 is the lack of episodes. But that isn't Paramount's fault by any means. This time around only 22 episodes (around 45 minutes each) were made this season because of a writer's strike. But don't let that sway you from picking up these 6 magical discs!

The 22 episodes included are: The Child, Contagion, Dauphin, Elementary Dear Data, Emissary, Icarus Factor, Loud as a Whisper, Manhunt, Matter of Honor, Measure of a Man, Outrageous Okona, Peak Performance, Pen Pals, Q Who?, Royale, Samaritan Snare, Schizoid Man, Shades of Gray, Time Squared, Unnatural Selection, Up the Long Ladder, and Where Silence Has Lease.

There are a few key episodes this time around. I really like "Elementary Dear Data" which explores some of the cast doing a mystery in the Sherlock Holmes era. We are also introduced to the Borg in "Q Who?", and even Wesley's first real crush in "Dauphin".

A few changes took place in Season 2 include the absence of Dr. Crusher, the addition of Dr. Pulaski, Commander Riker has a new beard, some people got promoted. Who could forget the introduction of the great Whoopi Goldberg too as our favorite bartender in the galaxy?!

As with Season 1, all of the episodes are presented in their original 4:3 (full screen) aspect ratio and quality varies from episode to episode. There are problems with some of the special effects looking too fake, but you can't blame the DVDs for that really. I'm still waiting to see later seasons and see how the bigger budget fares.

Once again, the audio is presented in new Dolby Digital 5.1 remixes that sound very good. Again, kudos to Paramount for taking out the time (and money) for the remastering of the soundtrack. A Dolby Digital 2.0 track is also available – but why listen to it? Even though most of the dialogue and sound comes from the front of the room, the little bits of extra .1 bass and use of the surrounds is really excellent for a show of this age. Good job.

Even though some fans thought Season 1 was lacking any real extras, fans should note that we get an extra documentary this time around. Maybe after all the season are released Paramount might release one big extras DVD – that might be a good idea – to wrap everything up. Time will tell.

The documentaries that are included this time around are: "Mission Overview: Year Two" which runs about 15 minutes that goes through some of the changes between Season 1 and 2, "Selected Crew Analysis" which runs 14 minutes and is about the cast, "Departmental Briefing: Production" which is the longest at 18 minutes, "Memorable Missions" which runs 17 minutes and goes on about what the cast remembers about certain episodes, and "Inside Starfleet Archives" which is a 17 minutes of looking at props, sets and such from the 2nd season.

Also, once again Paramount has released the discs in a unique case that will be used for all the upcoming seasons – just with a different color scheme.

I have to admit that I do love The Next Generation. I am so looking forward to watching the rest of the episodes in the series as they are released this year. It really takes me back to a time where all I did was watch Star Trek. Things were so much simpler back then to say the very least. Highly recommended.
Please help support our site by buying this DVD title through this link. Thank you kindly.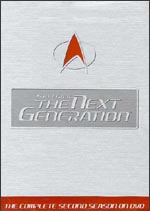 Purchase This DVD
Story / Content



Audio



Video



Extras