THE STAR WARS TRILOGY
Reviewed September 13th, 2004 by John D. Randall
"The Force Will Be With You, Always..."

It is hard to believe that the original Star Wars flicks are finally on DVD. Ok, maybe they are not exactly the original versions, but "Star Wars: Episode IV – A New Hope", "Star Wars: Episode V – The Empire Strikes Back" and "Star Wars: Episode VI – The Return of the Jedi" are finally on DVD – and they must be experienced to believe!

The beloved Star Wars movies have been given yet another face-lift and thankfully so! The films have never looked better. The video image is clearer than you have ever seen it. There is so much detail in every frame.

This is of course the classic story of Luke Skywalker, Han Solo, Princess Leia, Chewbacca, and of course the evil Darth Vader!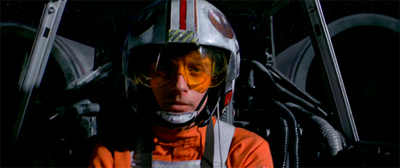 You can now enjoy their story like never before. The Star Wars Trilogy is a four-disc DVD box set that contains the three films – each on their own disc – and a special fourth disc with some great special features.

The restoration of these films will truly amaze you! When watching 1977's Star Wars (Episode IV) it is hard to imagine you are watching the same film made so long ago – it visually looks much newer now. Each film is presented in 2.35:1 anamorphic widescreen and detail is astounding. All three films have such vibrant color. Watch for the neon pinks, greens and blues. You will not be seeing any dust or scratches on this release.

Even though the films never looked better, they still are not perfect. You might notice a box or two still around spacecraft in a few older special effects shots. In addition, light sabers generally look much better, but still have problems (especially in the color department). Most likely there will be even more fixes / enhancements down the line.

Like in the 1997 special editions, the films have been updated on this DVD release with new CGI shots and new dialogue. The biggest number of updates have been made to "A New Hope", but the biggest change is made to "Return of the Jedi" with the appearance of Hayden Christensen (Star Wars Episode II / III) as Anakin Skywalker.

(You can click here to see a list of even more changes to films for this DVD release)

The DVD menus are very well done just like the Episode I and II DVDs. Each film's disc has one of three random menu designs.

Each film has been given a new Dolby Digital 5.1 EX surround mix. They are a piece of art for this release. Though not perfect all of the time, the soundtrack for all three films sounds almost new. English, French and Spanish Dolby Digital 2.0 soundtracks are also provided.

Commentary tracks are provided on each of the three film's discs and are worth a listen. The audio commentary on "A New Hope" is by creator George Lucas, sound designer Ben Burtt, special effects supervisor Dennis Muren and actor Carrie Fisher (Princess Leia). "The Empire Strikes Back" commentary is by George Lucas, director Irvin Kershner, Ben Burtt, Dennis Muren and Carrie Fisher. Lastly, the commentary on "Return of the Jedi" has George Lucas, Ben Burtt, Dennis Muren, and Carrie Fisher.

The fourth disc contains the bulk of the extras.

From the main menu, you have options for Documentary and Featurettes, Trailers and TV Spots, Video Games and Still Galleries, StarWars.com, Episode III Preview: The Return of Darth Vader.

Documentary and Featurettes – Here you can choose to watch the "Empire of Dreams: The Story of the Star Wars Trilogy" a 2 hour and 28 minute all new documentary. This awesome documentary by Ben Burt includes all new interviews and lots of unseen footage. The documentary also includes 12 chapter stops with its own chapter menu.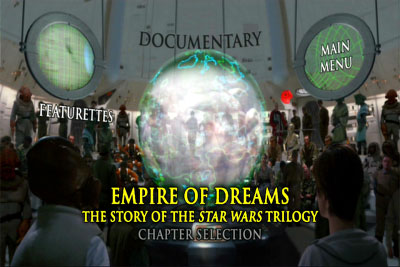 The "Featurettes" option takes you to a new menu where you can watch three featurettes entitled 'The Characters of Star Wars' (18 minutes) which discusses the progression of the classic Star Wars characters, The Birth Of the Light Saber (15 minutes) which discusses George Lucas's original vision of the classic saber, and 'The Force is With Them: The Legacy of Star Wars' (13 minutes) which contains interviews from top directors discussion the impact of Star Wars on modern filmmaking.

Trailers and TV Spots contains 10 trailers and 11 TV spots for your viewing pleasure. A New Hope has a teaser trailer (2 minutes), launch trailer (1 minute 10 seconds), re-release (32 seconds), and 1997's Special Edition trailer (2 minutes 8 seconds). The Empire Strikes Back has a teaser trailer (1 minute 28 seconds), launch trailer (2 minutes 2 seconds), and a re-release trailer (1 minute 48 seconds). Lastly, Return of the Jedi has a neat "Revenge of the Jedi" trailer (1 minute 30 seconds), launch trailer (1 minute 30 seconds), and a re-release trailer (1 minutes 25 seconds).

The "TV Spots" option takes you to a new menu with lots of 30 second TV Spots you can take a look at. A New Hope has 'Farmboy', 'What If?', 'Adventure', and a very very weird 'Forbidden Love' spot. Empire has 'New Chapter', 'Battle', 'Old and New', and 'Heroes'. Jedi has 'It Began', 'Climactic Chapter' and 'Return'. There is also an option to play all the TV spots at once.

The Video Games and Still Galleries section contains some very interesting material. First up, on this menu you can press the +10 button on your remote, then the number 1, then the number 1 again (a yellow box will appear on screen next to R2), then press the number 3, then the number 8. You will then be shown the DVD credits and some nice bloopers.

"Exclusive Production Photos" contains lots of on-set photos never seen before shot during the making of the films. "One Sheet Posters" contains all of the various original movie posters from around the world.

"Episode III: Making the Game" is a 6-minute featurette showing the making of the upcoming Episode III video game. It also contains some Episode III blue screen footage.

"Star Wars BattleFront" – If you have an X-Box make sure you put the DVD in and play the demo for BattleFront. It is one of the best video games ever! There is also a 1 minute 15 second trailer for the game. Shooting Ewoks - gotta love it.

StarWars.com - Each of the discs (including the 4th disc) contain a special link to special StarWars.com content if you are using the DVD in a DVD-Rom drive and have internet access.

Episode III Preview: The Return of Darth Vader is a nice little 9 minute sneak peak at the making of the new Darth Vader mask and it shows some blue-screen action from Episode III.

The main thing you have to scratch your head about with the 4th disc is the lack of any deleted scenes. Bummer.

In conclusion, The Star Wars Trilogy is finally on DVD - and the films never looked or sounded better. This set is (of course) a must-have and cannot be recommended enough. This set is unbelievable!
Please help support our site by buying this DVD title through this link. Thank you kindly.