STATE AND MAIN
Reviewed August 5th, 2001 by David Nusair
David Mamet's unique style of writing dialogue has been properly put to use in many dramas and thrillers (Glengarry Glen Ross and The Spanish Prisoner, to name his two most successful), but rarely has he ventured into the realm of comedy. In his capacity as a director, his only other comedy was the little-seen Things Change. Now, he's gone for laughs again, with State and Main.

William H. Macy stars as the director of a about-to-be-shot movie called The Old Mill. He and his crew have come to a small town to film the picture, where various run-ins with locals add to their many problems. Philip Seymour Hoffman is the screenwriter, while Alec Baldwin plays the skirt-chasing star.

State and Main doesn't have much by way of plot, but it does have a group of very talented actors portraying quirky and interesting characters. Some of these actors (Macy, Baldwin, Charles Durning) are Mamet veterans, able to spout his mannered dialogue with ease - making it sound realistic. Even the Mamet virgins - Sarah Jessica Parker, Julia Stiles, David Paymer - are equally adept at working with Mamet's notoriously clipped sentences.

But the problem with State and Main - as well-acted and written as it is - lies in its complete lack of a plot. Once the entire Old Mill crew arrives in the small town, the film doesn't go anywhere. It just relies on wacky misunderstanding and isolated incidents to propel the story forward. And it works - for a while. State and Main never quite gels like Glengarry Glen Ross, which was also quite plot-free, but worked because there was a sense of urgency that ran throughout (these guys were always in immediate danger of losing their jobs if they didn't sell enough - with State and Main, the biggest problem seems to be how to deal with Baldwin's predilection for teenaged girls).

But this is an awfully minor complaint for a film that features such fine actors doing some of their best work (Hoffman, in particular, is especially strong in a lead role).

Audio: State and Main is presented with a 5.1 DD track and it sounds great. The dialogue (of which there is plenty) comes across sharply and cleanly, and the overall sound of the movie is incredibly crisp.

Video: Despite what the back of the case says, State and Main is correctly framed at 1.85:1 (anamorphically enhanced) and it looks great. The colors are vibrant, and the image sharp. There are a few film related artifacts, but this is otherwise an outstanding transfer.

Extras: The most prominent extra is a commentary track featuring stars William H. Macy, David Paymer, Sarah Jessica Parker, Patti LuPone, and Clark Gregg (though, oddly enough, no Mamet). Though they have been recorded separately, this is an incredibly entertaining and informative track. It has been edited so that there is rarely a moment where somebody isn't speaking. Macy, in particular, provides most of the funnier comments (especially his pronouncement that he does great acting while eating and while speaking on the phone). There's also an anamorphic trailer and some cast/director filmographies.

Conclusion: While not as consistently entertaining as some of his other films, State and Main is a delightful way to spend a lazy Sunday afternoon.
Please help support our site by buying this DVD title through this link. Thank you kindly.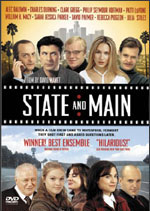 Purchase This DVD
Story / Content



Audio



Video



Extras