STEALING HARVARD
Reviewed March 16th, 2003 by Brian White
"Stealing Harvard?" asked the videostore person. "I'm reviewing it…" I replied. At least I had an excuse. I must confess that I actually wanted to see this movie upon its theatrical release, but I waited for video. Y'see, somebody has to be enthusiastic about hometown talent. I think Mr. Green can be funny at times. I enjoyed watching his show on a community channel here in Ottawa before he took off. Stealing Harvard also stars Jason Lee, who is quite entertaining in the Kevin Smith films. The main reason that I wanted to see this film is that it is directed by Bruce McCulloch of Kids in the Hall fame. I was hoping that his bizarre sense of humor would create a unique and crazy world for us to enjoy for ninety minutes.

I think that Tom Green's meteoric rise to fame was not in keeping with his talent. I also feel that the backlash against him is unfair. He is an entertaining and talented performer when given the right material (generally his own). This is not the right material. It is almost as if they said, "Let's put him in crazy situations and let him fly with it." It didn't work here. I see him flourishing in creepier situations, such as the shock treatment experiment that Bill Murray does at the beginning of Ghost Busters. Tom's bizarre situations in this movie just don't fit.

Stealing Harvard is the story of John, who is about to buy a house with is wife when he is reminded of a promise he made to his niece that he'd pay for her college tuition. He has the money, but his wife has her heart set on the house. He feels that if he doesn't help out his niece, she'll have no future.

Foolishly, he goes to Tom Green's character (Duff) for advice. The movie dissolves into a series of crazy capers to steal the money. Bizarre and wacky situations eat up the characters, and our hapless hero gets deeper and deeper into trouble.

Jason Lee is quite good as John, and Dennis Farina does his job adequately as the over-protective father-in-law. Tom Green gives his all, but it isn't sculpted properly. The boundaries are not clearly defined for him, and often you just want him to shut up.

You never suspend your disbelief with this flick. I know that comedies in general are ridiculous, but there should be something in the fiber of a movie that makes you want to believe what is happening on the screen. In this film, you are not quite sold on why John would turn to crime. You do not believe Chris Penn's mob character in any way. You identify silly things as movie devices, rather than just finding them funny.

So unfortunately, this brings me to the conclusion that all of this is Bruce McCulloch's fault. He has some great ingredients here, from the talent on the screen, to the script. Though not without its moments, this could have been a funnier movie, and I am surprised that he did not make it so. Ironically, McColloch's cameo is one of the funnier things in the flick.

The video on the disc is quite good. The anamorphic, 1.85:1 transfer is very colorful and detailed. Visually, Mr. McCollugh did a great job of capturing his crazy little movie.

For audio, there is a 5.1 Dolby Digital mix. The soundtrack is full of music, and sound effects. These are mixed throughout the mix appropriately. The mix does its job more than adequately.

For extras you get next to nothing. There are some deleted scenes and filmographies.
Please help support our site by buying this DVD title through this link. Thank you kindly.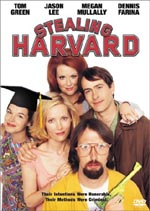 Purchase This DVD
Story / Content



Audio



Video



Extras