STIGMATA
Reviewed May 15th, 2000 by David Colby
stig·ma·ta Plural noun
marks resembling crucifixion wounds: marks on the hands and feet resembling the wounds from Jesus Christ's crucifixion

Just imagine receiving the 5 wounds of Christ. Nails through the wrists and feet, Thorns upon your head, Lashings and even a spear to the side. The thought itself is almost unbearable. A non-believer begins to experience these wounds in a story of finding faith and the truth. How far would the church go to ensure its existence? Probably further then even this movie reveals, but is a horrifying thought nonetheless. The Dvd does it do justice to such an interesting story line?

The audio is top notch with a full Dolby Digital 5.1 soundtrack. Not only is it 5.1, but it rocks. You know this from the second you turn on the DVD the MGM intro will rock your system. The audio track uses all channels and has some of the lowest rumbling bass yet seen on DVD. This one would make the top ten audio tracks to date on DVD.

Ok, so the Audio is outstanding, how is the video? The video is crystal clear, as well. A flawless transfer if such a thing exists. The clarity is all but beyond belief. You are treated to a widescreen version, but the DVD does not hint at its ratio or if it is anamorphic. Further research indicates that it is indeed anamorphic widescreen at a ratio of 2.35:1. The combination of audio and video make this one hard to resist.

DVD's extra's you have to love them. This one has several to wet your curiosity. They include: Director's Alternative Ending, Audio Commentary by the Director, Deleted Scenes, Music Video by Natalie Imbruglia, Theatrical Trailer and even an 8 page collectors book. This is a great combination. Great Audio, Great Video and Plenty of Extra's a great bargain since you can pick it up for under $20. Keep in mind this is a movie not for everyone and definitely not for kids.
Please help support our site by buying this DVD title through this link. Thank you kindly.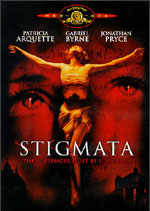 Purchase This DVD
Story / Content



Audio



Video



Extras