STRANGE DAYS
Reviewed October 17th, 1999 by Staff
The mind of James Cameron (The Terminator, Titanic) comes to life in this powerful movie about the year 2000. Ralph Fines plays Lenny Nero, an ex cop who got thrown off the force and ends up selling illegal "clips" and "decks" from a new contraption that lets you live other people's experiences. Angela Bassett plays Mace, a good friend of Lenny's who in employed by a limousine an security service. Juliette Lewis plays Faith, Lenny's ex girlfriend and Tom Sizemore plays Max, Lenny's best friend.

The world is in total chaos - crime is everywhere. Two rogue cops kill a prominent black man, and someone recorded the whole ordeal. Now the cops are after Iris, the woman who made the clip and she gets the clip to Lenny so now they are after him. In the meantime, someone kills Iris and records it and gets it to Lenny. This is surely a mixed up story with multiple story lines. All of this takes place in the last few days of 1999. It is an amazing story with great music and an overall dark atmosphere to the majority of the movie.

The video is presented in 2.35:1 widescreen format and overall does a good job. The transfer isn't perfect and closely matches the old laserdisc. The blacks and color level seem to be dead on.

The audio is presented in DD 5.1 and is wonderful. You will hear the surrounds as well as the LFE channel kicking.

Extras include two deleted scenes, a short commentary at the beginning, and 2 trailers. Overall this is a very exciting movie that shouldn't be missed. If you are a big fan of the movie, you won't be disappointed. Pick it up if you don't already have it on laserdisc.

The movie runs 145 minutes and is rated R.
Please help support our site by buying this DVD title through this link. Thank you kindly.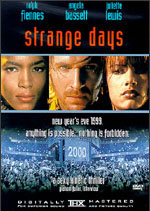 Purchase This DVD
Story / Content



Audio



Video



Extras