STRICTLY BALLROOM
Reviewed April 4th, 2002 by Dan Jones
Strictly Ballroom is, at from the exterior, a somewhat predictable, perhaps not too original story of a tremendously skilled dancer's trials and tribulations, and his rebound with a new, untested dancing partner. This is a story that might have you reminiscing of Dirty Dancing plot wise; but a film that is truly Baz Luhrmann ("But trust me on the sunscreen") presentation wise.

Strictly Ballroom was Lurhmann's first film, back in 1992, falling before the incredibly well done Romeo and Juliet, and well before the Oscar nominated Moulin Rouge. You can definitely see similarities between these later films and Strictly Ballroom; especially when comparing the first ten minutes of Moulin Rouge with it, sure to send some into an epileptic seizure. Attention deficit disorder? Nah, this is just the man's style.

As I said, Strictly Ballroom is not the most original story ever told. We start out with Scott Hastings played by Paul Mercurio, a champion ballroom dancer, and his partner at the beginning of the film, Liz Holt, played by Gia Carides. After Liz leaves the duo, and Scott's life, Scott comes across a relatively new dancer in Fran (Tara Morice). Of course, in the beginning Scott is none to sure of whether or not he should enter this partnership, but eventually they find that they are a tremendous duo together. Greatness lies ahead for them.

Yes, this is not the writing of Moulin Rouge or Romeo and Juliet, but Strictly Ballroom is overall, a very good film that shows the potential and goals Baz Lurhmann had for his future films. Robust color palettes, quick cuts, and just overall fast and fun (see Moulin Rouge), Strictly Ballroom does a lot of things right to overcome its simple storyline, and does not wear out its welcome, running at a brisk 94 minutes.

With the current success of Moulin Rouge, you had to assume that Strictly Ballroom would start to be more aggressively pushed onto the home market then it was before. Romeo and Juliet just received a special edition DVD release of its own. It is clear that Baz is here to stay; let's take a look at how Buena Vista did with his first film... DVD wise.

Presented in 1.85:1 anamorphic widescreen, Strictly Ballroom has received a transfer that in my opinion could probably be just a bit better. By this point, we should know that Baz is a sucker for huge, overly flamboyant color palettes, yet I could not help but feel that this transfer was a bit unsaturated in terms of vibrancy. Other then this gripe, the rest of the transfer is rather strong. For the most part the transfer is fairly detailed, with few noticeable soft scenes. No compression artifacts were noticed, as well as little grain or source damage. A good transfer for sure, and perhaps I am too use the colors in Moulin Rouge, but I felt it could be better.

Audio wise, Strictly Ballroom has been giving a fairly strong 5.1 Dolby Digital track when considering the age of the film. While not an overly lively mix, surrounds and the LFE do kick in moderately aggressively in some higher-octane scenes. Yes, for the most part this is a front heavy film, but again, for its age, it outdoes many other films in terms of liveliness from all 5.1 channels. Also included are English, French, and Spanish subtitles as well as English Closed Captions.

Extras wise, Strictly Ballroom has been giving a pretty decent treatment by Buena Vista. Starting it off we have an audio commentary by Baz Luhrmann, John O'Connell (choreographer), and Catherine Martin (costume design/production designer). This is a very good track, with a good detail of information on what went into the creation of the film, and as a scene by scene basis, as well as some general comedy from the commentators. If you enjoyed the movie, I would definitely recommend checking this out.

Next up, we have a documentary from 1986 called From Samba to Slow Fox. This doc goes into Australia's dancing competitions, paralleling (sort of) what these dancers go through. This is a nice documentary, although somewhat lengthy at 30 minutes for what it is and how it ties to the film.

Finally, we have a design gallery, as well as a large promotional section.

Overall, Strictly Ballroom shows Baz Luhrmann's potential as a director, which has blossomed him into stardom with the current mega hit Moulin Rouge. DVD wise, Buena Vista has done a good job of bringing this fairly dated (~ 10-year-old) film back to life on the format. With a relatively solid transfer, above average audio, and a couple extras, this is a definite recommendation for fans of the film, or fans of Baz; or a rent at least. Recommended.
Please help support our site by buying this DVD title through this link. Thank you kindly.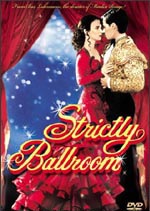 Purchase This DVD

Title Has Easter Eggs

Story / Content



Audio



Video



Extras