SUNSHINE
Reviewed August 5th, 2001 by Len D. Martin
Cast: Ralph Fiennes (Ignatz Sonnenschein/Adam Sors/Ivan Sors), Rosemary Harris (Valerie Sors), Rachel Weisz (Greta), Jennifer Ehle (Valerie Sonnenschein), Molly Parker (Hannah Wippler), Deborah Unger .(Major Carole Kovacs), William Hurt (Andor Knorr) James Frain (Gustave Sonnenschein), John Neville (Gustave Sors), Miriam Margolyes (Rose Sonnenschein), David de Keyser (Emmanuel Sonnenschein), Balazs Hantos (Aaron Sonnenschein), Kathleen Gati (Josefa Sonnenschein).

Director: István Szabó.

Story: When great-grandfather Emmanuel Sonnenschein (the name means "Sunshine") bottled the cure-all elixir "A Taste of Sunshine", he established a family fortune and assumed his sons would continue the business. But his sons, and family members to come, had. very different hopes and dreams. And so begins the epic story of the Hungarian Sonnenschein family, covering almost 70 years in the life of a family. There are sons, Ignatz and Gustave, and their cousin Valerie, who loves Ignatz and eventually marries him and have two sons, Adam and Istvan. In the first generation, Ignatz becomes a judge and Gustave becomes a doctor. Ignatz, in order to be admitted as a judge to a higher court, must change his Jewish name, Sonnenschein. He, Gustav, and Valerie decide on Sors.

Eventually the Great War comes and Ignatz serves Hungary as a military judge. When the War ends, he returns home and longs for the old regime, but it cannot be. Gustave eventually is exiled because of his political beliefs and Ignatz dies. Adam's story now unfolds. When younger he began fencing lessons and has become an expert at fencing, so much so that he wants to join the Officers' Club which is composed of the best fencers of Hungary. Since Jews cannot be admitted, Adam becomes a Roman Catholic so he may enter the club. Adam leads his team to victory at the 1936 Olympic Games in Berlin. Then World War II comes and the Germans invade Hungary and Adam and his family, because of Jewish background, is caught up in the Holocaust. Adam is tortured to death in a concentration camp, while his son Ivan watches. When the war is over and the Russians have liberated Hungary, Ivan becomes a police officer under the new Communist regime. Eventually, he becomes disillusioned and joins the Anti-Communist movement and is jailed. When freed, he returns home and seeks to change his name back to Sonnenschein.

Audio: Presented in Dolby Surround and Dolby 5.1 Surround.

Video: Presented in Anamorphic Widescreen 1.85:1 - Enhanced for 16x9 televisions

Extras: Scene Selection; Interactive Menus; English Subtitles.

Comments: Ralph Fiennes does a superb job as Ignatz, Adam, and Ivan in an epic 3 hour film, and the music by Maurice Jarre reminds one of the sweep of "Dr. Zhivago". It is also interesting in viewing the history of Hungary as we follow the Sonnenschein family. This film may not be for everyone but once you start watching you're hooked. My only complaint - the shortage of extras Paramount always seems to give the consumer. There are no Cast & Crew biographies, No Featurette on the making of this film, no Commentary.
Please help support our site by buying this DVD title through this link. Thank you kindly.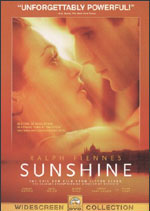 Purchase This DVD
Story / Content



Audio



Video



Extras