SUPER TROOPERS
Reviewed August 20th, 2002 by Patrick Mohan
Super Troopers is a movie that straddles the line of hilarious and almost funny. Similar to many of the later National Lampoonís movies, Super Troopers had a few rare shining moments for some and others found themselves checking if their organs still worked after laughing so hard. For me, the hospital bill was very expensive, but everything checked out all right. The guys from the Broken Lizard comedy troupe know how to make a great movie that doesnít have to rely on star power or a masterful plot. Instead, their comedic style embraces stoner jokes and department-wide gags and for me, they were more than enough.

The storyline of Super Troopers doesnít resemble Citizen Kane or even the great comedy flicks like Animal House or Dazed and Confused, but it does put a new twist on the genre that the Police Academy series started. The story deals with five Vermont state troopers and their quest to save their money-strapped department. While the feud between local police and highway patrol keeps the interdepartmental gags going, busting teenage potheads and feuding over who was first at the crime scene helps the audience keep laughing. Throughout the movie, the plot takes a backseat to any change to make the audience laugh, so thereís really no need to worry about character development, as long as the jokes are there, which they are.

The primary audio track is presented in a Dolby Digital 5.1 track. This DVDís audio does not break any new ground when it comes to comedy. While this was not a blockbuster film with millions spent on booming sounds, the soundtrack combines perfectly with the dialogue to make you laugh out loud a good bit. With such a comedy, the dialogue is delivered, which is what counts, is great on this disc.

I know I keep mentioning this movieís low-budget, but taking that into account, I was pretty impressed with the video, too. Itís presented in 1.85:1 anamorphic widescreen, and while there are a few exceptions in the area of video quality, I really found the video to be visually appealing.

This DVD is also packed with extras.

The first two features are a pair of Commentary Tracks by the guys from Broken Lizard. They are slit up into two groups and each group has a separate track. While they donít offer any insight into the film school technical ties of the movie, each track is pretty funny and worth listening to if youíre looking for any supplemental laughter.

In the area of deleted scenes, this DVD definitely has a few. Made of extended scenes, an alternate ending, and outtakes, these deleted scenes are still pretty funny and they are also offered with commentary tracks, also set up with 2 separate groups from the Broken Lizard troupe. While there is nothing that would really change the flick, it is nice to see a DVD that tries to include as much as they can.

There are also a few other extras including trailers for Kung Pow and Super Troopers. In addition to that, there are also two featurettes. One is more like an extended trailer for the movie and the other goes over more of the movieís promotion and shows brief clips of campus tours with the guys discussing the movie.

While Super Troopers does not hold the title of ďGreatest Comedy of All TimeĒ, I do believe that it was a pretty solid flick that did itís job and made me laugh throughout the entire movie. For the money and the laughter, it is definitely worth it.
Please help support our site by buying this DVD title through this link. Thank you kindly.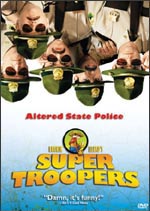 Purchase This DVD

Purchase Promo Poster

Story / Content



Audio



Video



Extras