SWEET HOME ALABAMA
Reviewed March 1st, 2003 by Brian White
You can never go back… or can you? Many people who have escaped from a small town have a complex relationship with that town. On the one hand, you left because you hated the place. On the other hand is the more difficult aspect of your identity. Despite the changes you have made to yourself, you are still tied to your hometown, no matter how much distance you place between it and you.

Sweet Home Alabama is a romantic comedy that explores the difficulties between life before and after the escape from the hometown. The title character, Melanie Snooter/Carmichael, ran away from her past to become an up-and-coming fashion designer in New York City. She has everything she could need: a rewarding career, a fiancée with a great future, and a cool, metropolitan existence. Just when everything seems to be going her way, Melanie's past invades the perfect picture.

Before she can get married to Mr. Right, Melanie must return to her hometown in Alabama to finalize a divorce with her husband. The couple has been apart for seven years, and he has never completed the divorce process. Basically, we have an interesting twist on a fish-out-of-water story, because the fish has merely changed its scales. Melanie doesn't fit in anymore, but she was obviously well connected to the town at one time. The main conflict in the film is between Melanie's two selves. She is never completely at home, but she is still a part of her surroundings. Plenty of comedy is also derived from the contrast between urban and rural. The fact that different aspects of Melanie fit into both worlds is an interesting approach.

Sweet Home Alabama works very well as a romantic comedy. Sure, it's a little corny, but it hits all of its targets. There are enough quirks to the story telling to make the movie fresh. This is by no means a monumental moment in American cinema, but it is a fun and entertaining movie. At first, the movie threatens to be a little right-wing, in that you have a successful woman who must give up who she has become to deliver the happy ending. Ultimately, Melanie remains in control of her destiny.

The movie boasts a very strong cast. Reese Witherspoon is on a career high. This is just the latest. She is perfect in this role, and few other actresses could have played the part as convincingly. She has great command over both the comedic and dramatic elements of the story. Candice Bergen is funny as the Mayor of New York, and it's hilarious to see her visit her future daughter-in-law's parents in their trailer. Josh Lucas' performance is particularly strong. He is the ex-ish husband. He must be a clown in the beginning, and then earn our empathy. He does this very well.

How does the disc look? The transfer is presented in 2.35:1, anamorphic widescreen. This aspect ratio is a little rare for a comedy, but it is welcome. The transfer is colorful, and detailed. The cinematography is quite good, making good use of locations in New York, Georgia and a brief glimpse of Alabama. The autumn leaves are lovely. I noticed a little dirt, but other than that the transfer was more than serviceable.

The audio on the disc, presented in Dolby Digital 5.1, is plenty dynamic for a comedy. You hear guns and canons (from the Civil War battle recreation) in the surrounds. Also, thunder is a thematic device in the film, so you get some great effects from the thunderclaps and the rain. The storm is all around you. Music is also mixed through the surrounds.

For extras, you get the alternate ending, eight deleted scenes, and a feature-length commentary from director Andy Tennant, who also directed Ever After. Tennant is full of information about locations, actors, and their dispositions, and the strange times of the day when things were shot. It is an entertaining commentary. A music video is also included.

On an authoring note, subtitles pop up on a couple of occasions. This isn't a huge deal, but it doesn't look very professional.
Please help support our site by buying this DVD title through this link. Thank you kindly.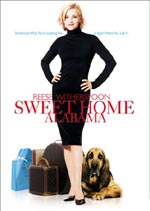 Purchase This DVD
Story / Content



Audio



Video



Extras