TAILOR OF PANAMA, THE
Reviewed September 29th, 2001 by Brian White
The Tailor of Panama was a movie that sort of beat around the bush, and disappeared. It was always supposed to come out, and it seems like it never did. It was advertised for Dec, Feb, April, and it came out in the summer... I think. It came and went without much of a peep. Despite all of this, the premise makes it absolutely must-see. Here, you have Pierce Brosnan playing the antithesis to Bond. No, he's not in a wheelchair, stroking a white cat. He's a bad British spy. He's nasty, corrupt, and manipulative. Pierce's character is posted to Panama as a sort of punishment for screwing up. Any Bond fan can't live without seeing this.

What we forget, approaching this film, is that it's really about Geoffrey Rush's character, the tailor of the title. Upon sitting and starting up this flick, Mr. Rush grabs it and runs away with it. Pierce can't be ignored, but this is Geoffrey Rush's film. Rush plays a fragile man, or as director John Boorman put it, a "drowning man trying to keep afloat." Pierce, though interesting, doesn't really pull it off. He comes across as a combination of himself, David Bowie, and the evil boss guy with the glasses in Snatch. Jamie Lee Curtis, though underused, is great as the tailor's wife.

This is not an action movie. This is a talking movie, and a very good one at that. Be for-warned. Brosnan's unethical spy will stop at nothing to achieve his goals, including manipulating the tailor to the point of ruin. The tailor, unwittingly, manipulates everyone else. This film boasts a great cast, and great political intrigue.

The video on the DVD exhibits all of the signs of a well-made, expensive movie. The anamorphic, 2.35:1 transfer is quite lovely, and shows off some of the beautiful cinematography of Panama quite well.

The Dolby Digital, 5.1 mix is good, though not overly dynamic. I don't recall having my attention brought to the mix at any time. It's hard for me to remember that this isn't an action film, so I'm waiting for all the wiz-bang. There are surround effects for thunder, and to punctuate things here and there. This is not a Bond film in the sound department, to be sure. However, the mix is quite appropriate for the subject matter.

For extras, you get a screen-specific commentary from director John Boorman. He's quite anecdotal, rather than technical. He talks about the characters and the locations, rather than the specifics of the lighting or the filming. You also get an interesting "conversation" with Rush and Brosnan. These two men loved playing their parts. They love the film, and the novel upon which it is based. It is quite an enthusiastic conversation. There is also and alternate ending.
Please help support our site by buying this DVD title through this link. Thank you kindly.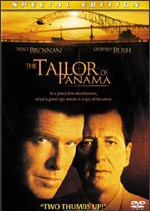 Purchase This DVD
Story / Content



Audio



Video



Extras