TAPEHEADS
Reviewed January 3rd, 2002 by David Nusair
Though it's since developed quite a loyal cult following, Tapeheads is nonethless a silly, occasionally quite funny little comedy anchored by two typically excellent performances by Tim Robbins and John Cusack.

The two star as struggling music video producers, with Robbins the creative force and Cusack the "brains" behind the operation. They're forced to take random odd jobs (commercials for chicken joints, video wills, etc.) until their big break comes in the form of a '50s soul group called The Swanky Modes.

Like The Blues Brothers, Tapeheads throws in a lot of musical numbers into the mix – to surprisingly enjoyable results. It's because those various tunes are so good (and so original), that the rest of the movie sort of pales in comparison. There isn't really anywhere for the flick to go after the set-up is established. Once you've seen a few wacky nonsensical vignettes involving the two guys, you'd expect some sort of a plot to kick in. It never happens.

But the movie does have a lot of charm, and manages to coast along on the charisma of Cusack and Robbins for a little while. This is one of those movies where you can sense that it must have been a lot of fun to be on the set. Sadly, positive set experiences rarely translate into effective moviemaking. Perhaps if the screenwriter had first thought of some sort of a driving force for the storyline, the movie would have worked. But as it is, it's just a few good songs with the occasional funny sequence – on the whole, it's instantly forgettable.

Audio: This DD 5.1 soundtrack is quite good. There are a lot of musical numbers here, and this track handles them all effectively – without ever drowning out dialogue. Anchor Bay's done another fine job here.

Video: Ditto the 1.85:1 transfer. Considering the low budget and the age of the movie, one wouldn't have expected such a clean and crisp transfer. But it is. There's the occasional grain, but I would imagine that's due to the budget constraints and not the transfer itself.

Extras: The only major extra is a commentary track featuring director Bill Fishman, executive producer Michael Nesmith, and production designer Catherine Hardwicke. This proves to be a reunion of sorts, and is interesting enough to listen to just because of that. It's informative too, but the barrage of deleted scenes that are mentioned proves frustrating since there are none on the disc. You also get a CD single containing Ordinary Man by The Swanky Modes.

Conclusion: Tapeheads is semi-enjoyable, but entirely worth checking out if only for the performances by Cusack and Robbins.
Please help support our site by buying this DVD title through this link. Thank you kindly.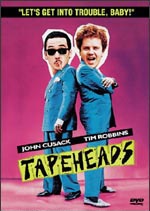 Purchase This DVD
Story / Content



Audio



Video



Extras