TEXAS RANGERS
Reviewed July 14th, 2002 by David Nusair
Like the recent American Outlaws, Texas Rangers attempts to reinvent the Western by casting hot young actors in pivotal roles and infusing a decidedly contemporary sense of style into the film. But, as American Outlaws proved, without a compelling story or characters, it doesn't matter how good the movie looks or how popular the actors are.

As the film opens, a young man (James Van Der Beek) is returning home with his father. His happy reunion with his family is short lived, though, as the evil King Fisher (Alfred Molina) rides into town and kills his parents and brother. Several months later, he hooks up with an equally homeless young man (Ashton Kutcher) and the two decide to try out for the Texas Rangers. The Rangers are an elite group of soldiers who, after the Civil War ended, were commissioned to rid Texas of all bandits and outlaws. Heading the Rangers is a grizzled veteran (Dylan McDermott), who, along with his two right-hand men (Randy Travis and Robert Patrick), is determined to make as much of an impact as he possible can before he dies (he's suffering from some kind of fatal malady; one would assume it's tuberculosis).

Texas Rangers is basically entertaining, and manages to coast along on the ample charisma of the various actors. The storyline is awfully thin, though, and even at a running time of around 81 minutes (without credits), the movie does tend to drag in certain sections. But director Steve Miner has certainly crafted a good looking film, with many beautiful shots of the expansive horizon. His choice of style falters only in the action sequence, which he has beefed up utilizing contemporary techniques. He uses a handheld camera during the majority of the action sequence, a technique I've never been a huge fan of. But it works even worse here than usual, because of all the horses running around and the multitude of soldiers fighting. It becomes awfully difficult keeping track of who's who, and which side is amassing more casualties. He even throws in an obnoxious swooshing effect to cut between shots in a forest battle. This is definitely a case in which old-fashioned techniques would have been far more effective.

While none of the actors really look as though they belong in the Old West (only Patrick, as a gruff soldier, seems to be comfortable wearing the clothes and speaking the dialogue), none of them are really awful enough to sink the movie. In the lead role, Van Der Beek is essentially playing a Wild West version of Dawson but it works. This is a character that loses his whole family in the space of a couple of minutes, so his morose behavior is expected. Among the supporting cast, McDermott makes a charismatic leader while Kutcher provides comic relief as Van Der Beek's goofy pal. Only Usher Raymond (the singer) seems out of place, due to his mostly modern delivery of his dialogue. He didn't quite go so far as to snap his fingers twice and shake his head, but he came close.

Texas Rangers might make for a good introduction to the Western genre for the kiddies, but everyone else would be better off just renting an old John Ford flick.

Audio: Texas Rangers is presented with a DD 5.1 soundtrack and it's very impressive. This being a Western, there are a good deal of sequences featuring horses running around and that's when this soundtrack really comes alive. The various shooting scenes are just as effective, with bullets flying by.

Video: Equally impressive is the 2.35:1 anamorphically enhanced transfer. There's not a single film-related artifact to be had, and the whole thing looks incredibly clean and crisp. This is certainly the best way to enjoy some of the gorgeous photography in the film.

Extras: First up is an eight-minute featurette on the making of the movie, and it's pretty good. It generally consists of the actors doling out effusive praise towards the director, but there is some making of footage to be had. Next up are two storyboard sequences, including an unfilmed opening. Rounding out the disc are a gallery of stills, a trailer, and some "sneak peeks" (consisting of a Dimension Films promo reel, and trailers for Robinson Crusoe, Iron Monkey and On the Line).

Conclusion: Texas Rangers will likely appeal to you if you're a fan of any of the actors.
Please help support our site by buying this DVD title through this link. Thank you kindly.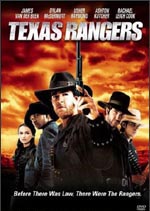 Purchase This DVD
Story / Content



Audio



Video



Extras