BOURNE IDENTITY, THE
Reviewed January 30th, 2003 by Brian White
If you are anything like me, you have difficulty accepting certain actors in certain roles. If Steven Segal tried a Shakespearean role, it would probably be a lot funnier than the filmmakers intended. Another problem comes when actors who are established in romantic, artsy, or funny movies try to appear on screen with a gun and a bit of blood on their lip. This usually doesn't work, and we sit there in the theater thinking, "He couldn't take that guy… No way!" This is certainly a problem with Matt Damon and Ben Affleck. It is difficult to accept them as action heroes. Sum of All Fears wisely introduces Affleck as a computer geek who is ultimately forced into action. Ben's buddy Matt Damon also made a big splashy action film, the Bourne Identity, which competed with Affleck's film last summer. Surprisingly, both films did very well. Also surprisingly, Damon is easy to accept as an action hero. In both the cases of Affleck and Damon, the plot eases the characters into the action hero role. With Affleck, it was a slow progression; with Damon, in The Bourne Identity, it is a process of revelation about his abilities. He's shocked by what he can do, so we forget that Wil Hunting is kicking ass.

Imagine you wake up, not knowing who you are, what you do, or where you are. Despite not knowing any of these important things, you can speak any language, and achieve some pretty amazing stunts. When forced, you can defend yourself with amazing skill, you foil rather large attempts on your life, and you can drive a mini cooper like nobody's business. Such is the case with Jason Bourne, or at least he thinks that is his name. Found at sea, Bourne begins a road of self-discovery that is fraught with danger and intrigue.

The Bourne Identity works really well as an action flick. It follows the slow-exposition formula, in that you figure out what is going on at the same rate as the protagonist. Only at the end of the film do you realize everything that is going on. The pieces of information that reveal themselves usually take place during really cool action sequences, where the audience is both entertained, and pulled along with the story.

In the end, this is no mindless testosterone ride. You have an intelligent story told very well. There is plenty of action, but not at the expense of the audience's intellect.

The filmmaking here is really tight. Action scenes are filmed very well. The editing is great for the fight scenes, and there is ample punch. The movie is set in France, during the winter. The gloomy, antique look is very good, and it echoes international espionage films of the past. Other than adding to a sense of genre, the look of the film is very cool, and the cinematography captures the locations well.

The transfer on the DVD looks very good. The 2.35:1, anamorphic transfer is very clean and detailed. Colors are good as well. Basically we're spoiled once again with a big-budget action flick that has a great DVD transfer. A full-frame version of the DVD is also available… for some reason.

The real star here is the audio mix. Both a DTS and Dolby Digital 5.1 mix are on the disc, and the sound design for the film is fantastic. Certainly there are several action flicks on DVD with great mixes, but this is one of the better mixes that I have heard. You get stuff happening around you, but the effects in the surrounds somehow sounds more realistic in Bourne Identity. The mix is really weighted toward the back. There is also a very interesting score that is sometimes industrial and percussive. This percussion flickers back and forth between the surrounds, intensifying with the action on the screen. I would say that this is a demonstration disc for sound. The Dolby Digital mix is very good, but you get more detail from the DTS mix.

For extras, you get a behind-the-scenes featurette, a Moby video, an alternate ending, and extended sequence, and a screen-specific audio commentary from director Doug Liman. Liman delves into technical aspects of the film, such as the editing of the farmhouse scene. He also discusses performances, such as Damon performing some of his own stunts in fight scenes.
Please help support our site by buying this DVD title through this link. Thank you kindly.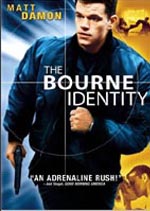 Purchase This DVD

Purchase Promo Poster

Story / Content



Audio



Video



Extras