BREAKFAST CLUB, THE (HIGH SCHOOL REUNION EDITION)
Reviewed September 2nd, 2003 by John Randall
"Screws just fall out all the time - the World is an imperfect place..."

Arguable one of the best films to come out of the 80's "Anthony Michael Hall" era – The Breakfast Club makes a second appearance on DVD – and sounds better than ever.

Go way back to 1985 with the gang from Shermer High School. Saturday detention brings a small group of five misfits - from all different backgrounds - together for one hell of a day of awakening. The film ultimately shows how alike we all are.

The film was written and directed by Sixteen Candles director John Hughes and stars some of the best young actors of the time period including Molly Ringwald, Ally Sheedy, Judd Nelson, Emilio Estevez and of course Anthony Michael Hall. Moreover, who could forget our favorite Principal Vernon played by Paul Gleason.

If by some chance you have not seen this film before (if that is even possible), then do not catch it on censored non-paying cable channels. The editing done on those TV versions totally takes away from major points in the film.

The DVD is presented in 1.85:1 anamorphic widescreen and looks ok, but it is nothing to write home about. You might be a little disappointed with all the grain that is still very apparent. It might be time for a good clean-up job on the original prints.

The audio options on this new release include new Dolby Digital and DTS 5.1 soundtracks. There is no real differences between the two 5.1, nevertheless the new remixes are both very welcome. Even though everything sounds very "80's" and outdated, the songs in the film never sounded better (and you know you love those songs!). Spanish and French Dolby Digital 2.0 tracks are also provided.

On the very sad side of things, the only real extra on the whole disc is the theatrical trailer for the film. One of the best films of all time and no commentary, deleted scenes, documentaries – or anything. Bummer.

The soundtrack is better than ever – the film is timeless. This DVD release may be lacking in the extras department and the print used could use some cleaning up, but this DVD is still highly recommended.
Please help support our site by buying this DVD title through this link. Thank you kindly.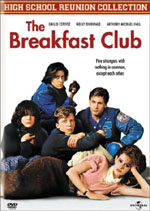 Purchase This DVD

Purchase Promo Poster

Story / Content



Audio



Video



Extras