BUSINESS OF STRANGERS, THE
Reviewed December 29th, 2002 by David Nusair
Writer/director Patrick Stettner had to realize that The Business of Strangers was going to be endlessly compared to In the Company of Men. Besides the fact that the two share similar titles, both are concerned with business associates who pick out a victim to torment and proceed to do just that. And though The Business of Strangers isn't quite as effective as In the Company of Men – Stettner doesn't have Neil LaBute's flair for vitriolic dialogue – it is nonetheless an intriguing look at women behaving badly.

The majority of the film takes place in and around an airport, mostly inside an adjacent hotel. Julie (Stockard Channing) is a high-powered business executive who, after learning she's to meet with the company's president, becomes convinced she's about to get the axe. She calls in a prominent head-hunter named Nick (Fred Weller), in the hopes that she'll be able to procure a comparable position at another firm. After meeting with the boss, though, Julie learns that he's planning to move on and she's to be promoted to CEO of the company. Meanwhile a temp worker named Paula (Julia Stiles), whom Julie fired after showing up late to an important meeting, is about to fly back home when Paula spots her and strikes up a conversation. Coincidentally, Nick happens by and Paula reveals to Julie that Nick raped a friend of hers in college. So, the two hatch a plan to get back at Nick in a manner that befits a rapist.

What The Business of Strangers really boils down to is a couple of good performances and some really interesting dialogue. The storyline concerning Nick and his comeuppance doesn't take center stage until about 20 minutes towards the end, and that's certainly the weakest section of the movie. The scenes that feature Paula and Julie just talking are far more intriguing than the stuff with Nick's revenge, which has been included likely to satiate those who can't stand plotless flicks. But really, when the dialogue is as strong as it is here, the introduction of any kind of storyline is superfluous.

And by the time the end rolls around, with it's hardly-surprising twist ending, it's easy enough to wish that Stettner had limited the film to Julie and Paula's conversations. Still, Channing is quite impressive playing a hard-as-nails executive who's made regrettable concessions along the way to the top, and Stiles is just as good (though her portrayal of a bitchy tattoo-covered temp worker is about as convincing as Leelee Sobieski's goth chick in My First Mister).

Audio: The Business of Strangers is presented with an utterly superfluous DD 5.1 soundtrack. The sound remains completely in the front end, which isn't surprising, given how much dialogue there is in this movie.

Video: Somewhat better is this anamorphic 1.85:1 transfer. It's grain-free, and looks quite sharp – which is a little surprising, given how low the budget must have been.

Extras: A widescreen and full-screen trailer.

Conclusion: This'll make for a great double bill along with In the Company of Men.
Please help support our site by buying this DVD title through this link. Thank you kindly.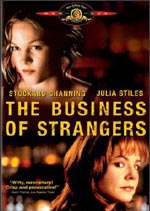 Purchase This DVD
Story / Content



Audio



Video



Extras