CHANGELING, THE
Reviewed January 3rd, 2002 by David Nusair
It's easy to forget that George C. Scott was a really good actor, what with the way The Simpsons basically turned him into a joke (that whole "oh, my groin!" thing is a classic moment from that show). The Changeling offers up a side of Scott that he rarely showed in his films – his character is quite often very vulnerable and not always entirely sure what to do next. Considering that this is the guy that played one of the most arrogant leaders in history (Patton, duh), that he would play a character like this is surely a testament to his talent.

The movie opens with Scott witnessing the death of his wife and child. If that doesn't grab your attention right away, you're probably watching the wrong movie. Cut to several months later, and Scott is moving out of the city and into a gigantic historical mansion. He takes a job at the local college teaching music, while tinkering away on some opus during his off hours. But strange things are afoot inside his new house. Water faucets turn on by themselves, glass shatters even though it's empty – standard haunted house stuff. So, Scott begins to investigate and comes to realize that something horrible happened in that creepy attic apartment nearly 80-years ago…

The Changeling unfolds slowly, choosing to take its time in setting up the characters before any real horror begins, and that in itself is enough to recommend the movie. Consider that almost every so-called horror flick nowadays tends to feature scantily clad actresses and a lot of pointless murders. In The Changeling, one guy gets killed – excluding the deaths of Scott's family at the outset. The rest of the time is essentially devoted to creating an uneasy atmosphere, both for Scott and the audience.

And what an atmosphere it is. The mansion, a gigantic and rickety invention, represents what most people would automatically picture after hearing the words "haunted house." It's dark and creepy, and it's a wonder that Scott's character even agreed to live there. While the house provides the aura of dread that pervades the movie, the restraint shown by director Peter Medak is just as responsible for the effectiveness of the tale. Instead of inundating us with over-the-top haunted house hijinks, he bides his time by waiting before introducing the ghostly happenings – a weird noise here, a horrifying vision there – which provides a satisfyingly ominous atmosphere. The only time the movie misfires in its conclusion, which is slightly more action-oriented than it needed to be.

The Changeling is a perfect example at how to make an effective horror movie. It doesn't rely on fancy special effects nor does it star a single teenager. It's just a well-told ghost story, plain and simple.

Audio: Though a 5.1 track isn't included, this DD 2.0 soundtrack is surprisingly effective. Given that this is a ghost story, one would expect a wide variety of creepy ambiant sounds – and that's just what you get with this disc. This is a very appropriately subdued track, but when it needs to be, it's quite aggressive (especially towards the end).

Video: This anamorphically enhanced 1.85:1 is very crisp, especially when you consider how old the movie is. Blacks look great (and they really have to since so much of the movie takes place in dark places), while brighter outdoor scenes fare just as well.

Extras: Some cast/crew bios and that's it. A trailer might have been nice…

Conclusion: If you're sick of all those post-Scream horror flicks, give The Changeling a try. It's refreshingly old-school.
Please help support our site by buying this DVD title through this link. Thank you kindly.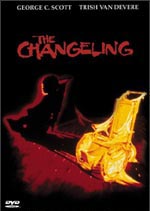 Purchase This DVD
Story / Content



Audio



Video



Extras