DISH, THE
Reviewed September 16th, 2001 by Brian White
The Dish is the story of Parkes, and its people. Parkes is a little town in New South Wales with lots of sheep herds and rural Australian charm. One other thing that Parkes has is the largest radio observatory (a one thousand ton dish) in the Southern Hemisphere. Why is that important? Well in 1969, use of the Parkes dish was the only way that NASA could remain in contact with the Apollo mission. More than facilitating the mission itself, the dish at Parkes also allowed the world to see the Neil Armstrong and Buzz Aldrin, walk on the moon via live television. The people in this ordinary, remote town, were suddenly part of the most important technical achievement that the human race has known. Now, let's get those conspiracy fools on Fox to explain why they went to all this trouble in Parkes if the moon landing was a hoax!

You'd think that this would not be enough to fill a feature length film, or at least fill a movie that holds your interest. Fear not, this is a very funny movie about the quirky, and amusing people that make up this town. The cast of characters is well developed, and so well acted that you wouldn't mind spending time in this quaint little place.

Sam Neil plays Cliff Buxton (and very quietly at that), the scientist in charge of the radio station, and one of the men responsible for bringing the dish to Parkes. His back story is heart-warming as it is revealed through the film. Patrick Warburton (Seinfield and The Tick) plays the NASA over-seer that comes to Parkes to make sure that the folks there don't screw things up. The town's mayor, his family, the townsfolk, and the other scientists at the dish fill out a fantastic ensemble cast that makes for a very entertaining 90 minutes.

The video quality on this DVD is quite good. The 1.85:1 transfer shows a bit of graininess that I think is the result of the film stock used. There is plenty of beautiful photography in the film, and the transfer does a great job to communicate the lovely shots to the home theater market. Colors are quite good. This is a pretty good looking disc. Despite not being mentioned on the packaging, or in feature listings online, the transfer is anamorphic.

The audio mix is mostly toward the front, given the dramedy sort of feel of the film. At times, there is plenty coming from the surrounds. You can hear the metallic creak of the dish as it sways in the wind. Also, listen to your subwoofer when the footage of the launch is shown. The mix is Dolby Digital 5.1.

For extras, you get the theatrical trailer.
Please help support our site by buying this DVD title through this link. Thank you kindly.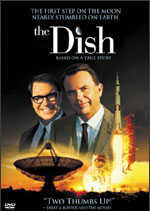 Purchase This DVD
Story / Content



Audio



Video



Extras