VH1 STORYTELLERS - THE DOORS (A CELEBRATION)
Reviewed November 12th, 2001 by Dan Jones
I first caught this VH1 Storytellers presentation a few weeks ago on, oddly enough, VH1. Coming in a bit late to the presentation, I was thoroughly impressed by how well this show was put on, even in the absence of Jim Morrison. The choices for honorary Morrison's for each song was an odd thing at first to get used to, but as the presentation went on I was left speechless. There are some extremely great performances here, and any fan of the Doors, or for that matter fans of music would love this show. After viewing the DVD, I was even more impressed.

On this DVD, we get Love Me Two Times (with Pat Monahan from Train), Alabama Song, Back Door Man (with Ian Astbury from The Cult), The End (with Travis Meeks from Days of the New), Break on Through, Five to One (with Scott Weiland of Stone Temple Pilots), L.A. Woman (with Perry Farrell of Jane's Addiction), Light My Fire, Roadhouse Blues (with members of Creed), and "Riders on the Storm" (with members of Creed), "Wild Child" (with Ian Astbury and Billy Duffy of the Cult) which were off the broadcast version; featured as bonus tracks here.

Standout performances on this DVD in the honorary Jim Morrison category come from Travis Meeks doing an excellent rendition of The End (truly amazing... ), Scott Weiland on Five to One and Scott Stapp on Roadhouse Blues. As always the original Doors sound phenomenal on percussion and backup vocals; truly a tremendous performance all around.

So how does a VH1 Storytellers concert sound on DVD? Not too surprisingly for a music DVD, it sounds great. Moreover, I was impressed to see that not only are we given a standard (now-a-days) 5.1 Dolby Digital track, but that we were also given a 5.1 DTS track to go along with it, and a standard (yet very solid) Dolby Digital 2.0 track. Both 5.1 mixes are done very well, with most vocals of course coming from the center channel, with the background music coming mostly from the front left and right channels, and added for a nice encompassing feel on the rears. If I had to give a nod to one of the mixes, I would have to go with the DTS track for a slightly richer sounding, more surrounding feel. Both are very good though overall; even the 2.0 track does a good job.

Video wise, this presentation looks great compared to the broadcast version; which looked pretty good already. We get the standard (for TV) 1.33:1 full screen format as expected. The picture is very sharp, clean and clear with no visual blemishing or digital artificating noticeable. Not much more can be asked in this department; it is a very solid transfer.

Extras? Why yes, when compared to the broadcast version seen on VH1. We get the aforementioned "Riders on the Storm" and "Wild Child" as bonus tracks along with a booklet with bios and show information, along with thoughts from the band's manager and the Storytellers producer.

Overall, the VH1 Storytellers presentation of The Doors looks and sounds great on DVD. The performance is excellent and sometimes, if you close your eyes, you might be able to imagine that Jim Morrison is still there; it is really that excellent. Definitely recommended to any fan of music; and if you are a Doors fan, you already own this... right? Highly recommended.

On a side note - I'm (and obviously many others are) still waiting for that Counting Crows Storytellers DVD (maybe someday - Image? Anyone? Anyone?).
Please help support our site by buying this DVD title through this link. Thank you kindly.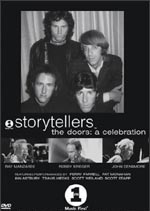 Purchase This DVD
Story / Content



Audio



Video



Extras