GOONIES, THE
Reviewed August 9th, 2001 by John Randall
"Hey you guys!"

Head back to the mid 80's in one of the most intriguing adventure movies of all time! Well, it was for me then anyway - and still is today. I really do love this movie.

If by some chance you have not actually seen this movie (and therefore you must have been real sheltered), the movie is basically about a group of kids who set off to find some lost treasure. What ends up happening is a story is told that is original and exciting. Did I mention that the story was written by Steven Spielberg?

The is one awesome cast which includes Sean Astin, Corey Feldman, Kerri Green, Martha Plimpton, Joe Pantoliano and others. You most likely recognize a few names above, but this movie is where they all really shine.

We head to Astoria, Oregon - a small coastal town. A group of friends (Mikey, Chunk, Mouth, and Data) nicknamed "The Goonies" are about to be split apart and move in different directions because a businessman forecloses on all their property to make way for a new golf course. The group looks in the attic of one of their houses and finds an old treasure map and a few clues to make them think that they could find the treasure themselves and save their homes.

The group find the start of the map which ends up being the hideout for some criminals who ends up chasing them through the rest of the movie.

That is really all I'm going to say about the plot because nothing about this movie needs to be given away.

The Goonies is presented in 2.35:1 anamorphic widescreen and I have never seen it look any better. If you by some chance catch it on cable one day - check out how pathetic it looks. This DVD rocks in the video department. The movie is a bit old, so try not to hold it up to today's standards. The image is actually a lot better than I thought it would be.

The audio is presented in good ole Dolby Digital 5.1. A English 2.0, French 2.0 and a Spanish mono soundtrack option is also available. The 5.1 really kicks which was exciting to hear. The surrounds were a big surprise - you can actually hear water dripping from behind you. Bass was pretty strong which was unexpected as well. Again, you can't compare it to a movie from today, but it blew me away.

There weren't many extras, but what is included was very nice. First off, there is a commentary from the director and some of the cast. The good thing about it was sometimes you could see the video of them in the room. It was nice to see some of the other actors who don't do many movies and see what they look like today. Next up is both parts to the music video "The Goonies R Good Enough" which runs a total of 12 minutes. Cudos to Warner for getting both parts. Also included is a short "Making of" documentary which was nice but way too short. There is also a few cut scenes which are listed as outtakes. You might have seen them on the Disney channel before which includes the infamous octopus scene that the Goonies talk about at the end of the film to the camera crew. Lastly you have a list of the cast and crew and a trailer for the film.

Many people have been waiting for this disc and they will not be disappointed by any means. The movie rocks and so does this DVD. The film runs just over 2 hours and is rated PG. You should note that this film does have a lot of swearing if you have not seen it before, but nothing too bad. The disc is very highly recommended for everyone.
Please help support our site by buying this DVD title through this link. Thank you kindly.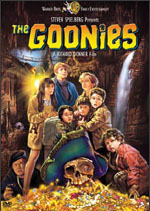 Purchase This DVD
Story / Content



Audio



Video



Extras