GREAT RACE, THE
Reviewed August 20th, 2002 by Patrick Mohan
Although 90 minutes has become the standard for comedies these days, the Great Race was made in the 1960's and following in the footsteps of It's a Mad Mad Mad Mad World, it worries more about content, not time and special effects. I laughed throughout the entire flick.

The Great Race is one of the greatest epic comedies of all time. With a jam-packed cast of Hollywood's finest, the film follows the Great Leslie (Tony Curtis), the heroic daredevil. Proposing a race from New York to London, Leslie finds Professor Fate (Jack Lemmon) to be his greatest competitor. Although he lacks the genius that most villains have, Professor Fate seems to own an encyclopedia of dirty tricks and uses everyone throughout the film's 160 minutes. Fate's henchman, Max (Peter Falk), only adds to movie's comedic appeal. Curtis and Lemmon effectively rekindle the flame they found in Some Like It Hot. Even though Fate is Leslie's primary competitor, one other participant manages to avoid Fate's trickery and remain in the race. Her name is Maggie DuBois. The beautiful Natalie Wood plays the reporter of the New York Sentinel. Not only does she play Leslie's romantic interest, but she also provides the necessary third part to the Lemmon/Curtis duo. Once the race leaves America and reaches Europe, a subplot sets in with Crown Prince of Potsdorf, also played by Lemmon. Although there is a brief period where the film gets slow, Lemmon's part as the prince combined with his role as Professor Fate keeps the film going and gets you over any hump that you might encounter. Some of the jokes might seem dated, but with one of the world's craziest pie scenes, the film as a whole holds up almost 40 years later.

With the release of this DVD, there is a remixed Dolby Digital 5.1 track, which does the film justice. Although it does not resemble the audio tracks that we have today, the work that was done with such an old movie really impressed me. The film has a beautiful score, done by Henry Mancini. The only thing that was disappointing was the introduction and how the audio was remixed incorrectly, so that the film's title cards aren't properly coordinated with the audio. Fortunately, the rest of the film does not suffer from this mixing problem, so it's just a small bump on a much longer journey.

I must give credit where credit is due. Warner Brothers did a phenomenal job with this transfer and the presentation in 2.35:1 anamorphic widescreen, especially for a movie that was made in 1963. The colors are rich and vivid. With a movie that features so many different locations and environments, this transfer really does the movie justice.

Since the movie was made in '63, I wasn't expecting many extras. There are really only two features worth mentioning. First, there is a widescreen theatrical trailer. Second, there is an interesting featurettes that last about 15 minutes and it is called, "Behind the Scenes with the Great Race." It covers little production information and could be considered a "Director's Cut" of the trailer. The featurettes is primarily a reel of clips from the movie and it gives away a large part of the plot. It would have been really great to have a commentary track to gain more insight to the making of this classic flick. Unfortunately, it would now be incomplete with passing of Jack Lemmon, but I am sure that Blake Edwards, Tony Curtis, and Peter Falk could provide a memorable track that would also pay tribute to the great actor.

It's great to see comedies that hold up over time. Without incredible and lavish effects, this movie relies on old-fashioned slapstick humor that is able to keep the film going throughout. If you are a fan of comedy, then your collection is incomplete without this DVD.
Please help support our site by buying this DVD title through this link. Thank you kindly.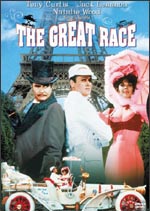 Purchase This DVD
Story / Content



Audio



Video



Extras