IMPORTANCE OF BEING EARNEST, THE (2002)
Reviewed November 26th, 2002 by Brian White
A lot of critical ink was spilt on The Importance of Being Earnest when it was released theatrically last summer. As with any literary source, certain viewers tend to have a negative reaction when anything silly happens onscreen. One should always temper this snobbery with the fact that this movie is based on a play by Oscar Wilde. His plays are supposed to be frivolous. While well written, they are part of a theatrical movement that was satisfied with being an excuse for its audience to dress up and go to dinner and a play, rather than to delight and enlighten. Wilde's plays find themselves sitting well within this genre of "The Well Made Play," but they rise above this genre by the quality with which they are written. Wilde is no Chekhov or Ibsen. He does not use or exploit the genre to make political statements. His plays are all about wit. Wit, the man had in spades.

Thankfully, Hollywood has decided that Wilde makes good source material for movies. It makes sense. You get lavish costume dramas with nearly no weight, and they can be hilarious. An Ideal Husband is a perfect example of how this can be achieved. You get all the lavishness and accents, but it's light and fun. Nowhere do you see the Dickensian street urchins. Instead, everyone's of noble birth, living in the fashionable parts of London, and the sun always shines. Another reason that Wilde makes for such good multiplex fodder is the fact that the sitcom television genre is basically lifted from the Well Made Play. Earnest has more in common with Frasier than with Hedda Gabler.

So how is the movie? Sadly, not as successful as An Ideal Husband. All of the pieces are there: a fantastic cast, a very good production design, and Wilde's source material. Unfortunately, there is something wrong with the execution of silly. This is probably best exemplified with Rupert Everett's portrayal of Algernon. Certainly he nails all of the witty banter, and he's a suitably foppish upper-class rogue, but he doesn't do goofy very well; and neither does this film. In fact, when director Oliver Parker tries to expand the humor beyond the wit of the text, it gets a little crazy. See Colin Firth hopping around in the last scene, and you'll know what I mean.

Judi Dench, Frances O'Connor and Reese Witherspoon capture their characters perfectly.

This is not to say that there aren't some great additions to the text. One welcome addition is the music. Wilde certainly goes well with this jazzy approach, as it seems perfect to see Algy jump into his Kitchen window to find all of the domestics playing instruments. In keeping with the film's difficulty with being goofy, it is cringe inducing to watch Firth and Everett serenade their prospective ladies. Parker claims that Everett could play piano on the commentary, but his utter lack of music in this scene is distracting.

When this film sticks to the spirit of the text, it is very good. When it takes liberties, it sometimes fails. The Importance of Being Earnest boasts great performances, and is an entertaining film in general. There is an amusing and quite modern editing approach to the film as well. While mostly quite good, The Importance of Being Earnest does not always hit the mark. The transfer on the disc is presented in 2.35:1 anamorphic. The movie is well shot, and very colorful. While not the most dazzling transfer in terms of clarity by any means, the transfer looks quite detailed and clean. There is not the abundance of grain that I had anticipated.

The 5.1 Dolby Digital surround mix does more to open up the sound than to pull the viewer into the action. Surround mostly fleshes out the audio. Just listen when Firth and Everett's song turns into a full band piece: the sound really opens up. Earnest is certainly a dialog-driven film, but everything is quite understandable.

For extras, there is a feature-length commentary by Oliver Parker. His insights are quite broad as he adapted the play into a screenplay, and then directed the film. So, he talks about actors, sets and his challenges with the script. His tone is quite low and relaxed, so the commentary can be a little boring. There is a featurette, that mostly involves the actors talking about how fun the movie was to make, and a "behind the scenes" thing that basically shows different shots being filmed with no commentary.
Please help support our site by buying this DVD title through this link. Thank you kindly.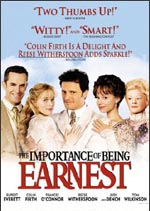 Purchase This DVD
Story / Content



Audio



Video



Extras