INSIDER, THE
Reviewed May 29th, 2000 by Brian White
Director Michael Mann's The Insider follows the story of Dr. Jefferey Wigand (Russell Crowe), a former scientist for a major tobacco company. Wigand is approached by 60 Minutes' news producer Lowell Bergman (Al Pacino) on a consultation matter. Bergman discovers that Wigand has more to tell. The film follows Wigand's uphill legal, economic and personal battles as he reveals the information that was protected by his confidentiality agreement. The film also deals with the struggles within CBS that lead to the shelving of the Wigand interview, and the humiliation of 60 Minutes, and 60 Minutes anchor Mike Wallace (the superb Christopher Plummer). The Insider is a great suspense with excellent performances.

The image on the DVD lives up to the great and well-shot movie therein. The above-par transfer is 2.35:1 anamorphic.

The 5.1 surround mix is quite deep and active (though recorded a little low). Thunder, rain and music fill the surrounds.

For extras, Touchstone has included trailers, the useless "Inside a Scene" feature which allows the viewer to read the script for a scene (contain yourselves). However, there is an excellent behind the scenes featurette. It doesn't make up for the lack of a commentary track, but the featurette does show the actual Wigand and Bergman with the actors portraying them in the film.

One major beef: After the warning screens, Touchstone makes the viewer watch a trailers for other DVDs! You can fast-forward through them. It's a bad deja-vu.
Please help support our site by buying this DVD title through this link. Thank you kindly.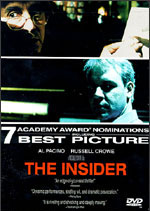 Purchase This DVD
Story / Content



Audio



Video



Extras