LADY FROM SHANGHAI, THE
Reviewed July 29th, 2002 by David Nusair
Even a master like Orson Welles slips up every now and then. The Lady From Shanghai features Welles behind and in front of the camera, yet the film never becomes anything more than a forgettable film noir.

Welles stars as a down-on-his-luck Irishman (no, really) who, as the film opens, spots a fetching woman riding a horse-drawn carriage and quickly proceeds to hit on her. Turns out the woman (played by Rita Hayworth, Wellesí real-life wife at the time) is married to a successful businessman, who just happens to be looking for an extra man to work on his yacht. The fact that Hayworth has a husband doesnít deter Welles, who never passes on an opportunity to hit on the woman. The romance becomes secondary, though, when Welles receives a potentially lucrative offer from the business partner of Hayworthís spouse. Turns out he wants Welles to confess to killing him, though he wonít actually die (heíll fly to a far off island while his body supposedly festers in deep water) but instead collect his life insurance money. Welles is apprehensive, but after being assured thereís no way he can go to jail without a body, he agrees. Of course, this being a film noir, nothing goes quite as planned.

The Lady From Shanghai doesnít contain any of the virtuoso directorial flourishes Welles became famous for with Citizen Kane (this is, after all, the same guy who dug out a floor just to get a low-angel shot). The filmís look is decidedly bland, with little use of shadows to create a dark (dark in the literal and figurative sense) atmosphere. Finally, towards the end, thereís a sequence that takes place in a carnivalís house of mirrors thatís quite impressive, but itís too little too late by that point. Add to that a plot that barely makes sense (Iíve got nothing against labyrinth-type storylines but this is a little ridiculous) and youíve got a thoroughly underwhelming oddity.

Still, the movie remains watchable due mostly to Wellesí performance and the quirky supporting cast heís assembled. Fans of film noir will probably want to check this out if only for that conclusion, while curious newcomers to Wellesí work should leave this one Ďtil the end of his oeuvre (and Iím including Transformers: The Movie in that list).

Audio: This dolby surround mono soundtrack presents dialogue and thatís about it. It sounds relatively clear, though it is sometimes muffled.

Video: The Lady From Shanghai is presented full-frame and it looks pretty decent. While itís not nearly the stunning transfer that Citizen Kane was, it still looks fairly good for a movie thatís over 50 years old. Film artifacts, while present, are minimal while DVD artifacting is nil. This is probably as good as this flick is going to get.

Extras: Surprisingly enough, there are a good number of features included. First up is a commentary track with director and Orson Welles historian Peter Bogdanovich. Bogdanovich actually knew Welles while he was alive and conducted a series of interviews with him that he included in a book. So, not surprisingly, he proves to be exceptionally knowledgeable about Welles and about the film. There is a little overlap in the commentary and the included 20-minute interview with Bogdanovich, so Iíd say go with the interview if you have to choose only one. Rounding out the disc are some vintage trailers and advertising campaigns, and cast/crew bios.

Conclusion: The Lady From Shanghai is essentially forgettable. For Welles fanatics only.
Please help support our site by buying this DVD title through this link. Thank you kindly.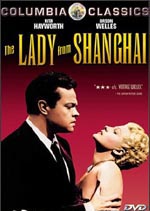 Purchase This DVD
Story / Content



Audio



Video



Extras