MEXICAN, THE
Reviewed August 20th, 2001 by Len D. Martin
Cast: Brad Pitt (Jerry), Julia Roberts (Samantha), James Gandolfini (Leroy), J.K. Simmons (Ted), Bob Balaban (Nayman), Sherman Augustus (Well Dressed Black Man), Michael Cerveris (Frank), Richard Coca (Car Thief), David Krumholtz (Beck), Castulo Guerra (Joe the Pawnshop Owner), Mayra Serbulo (Emanuelle), Salvador Sánchez (Gunsmith), Alan Ciangherotti (Gunsmith's Assistant), Melisa Romero (Gunsmith's Daughter), Ernesto Gómez Cruz (Tropillo), ????? (Margoles).

Director: Gore Verbinski.

Story: No, "The Mexican" is not a story about a man; The Mexican is a story about a gun. Not just any gun, but a special gun that has a unique history, is very valuable, and is desired by everyone. Nayman wants this gun and so, since Jerry owes him, he sends Jerry to Mexico to get the gun. But, there is a problem. Jerry wants Samantha to go with him, but Samantha, tired of Jerry's schemes, tells Jerry they are through and to go alone. She heads off to Las Vegas to be a waitress while Jerry heads off to Mexico to retrieve the gun. What follows is an unusual adventure that is both funny and, at times, violent. Samantha is kidnapped on her way to Vegas by a hitman (sent by Nayman) named Leroy who shoots another hitman (who shows up later), while Jerry is finds, loses, and learns about the gun, with the story of the gun changing each time it's told to Jerry. When the end of the film comes, a number of twists have unfolded and the outcome is a bit unpredictable.

Audio: Presented in Dolby Digital 5.1 and Dolby DTS 5.1 and Dolby Surround 2.0. The Dolby Digital 5.1 soundtrack performs great.

Video: Presented in Anamorphic Widescreen 2.35:1. Enhanced for 16x9 televisions The picture is crisp and the color is vibrant with no artifacts.

Extras: Commentary by Director Gore Verbinski and crew; From the Cutting Room Floor - 8 Deleted Scenes with Optional Director Commentary; HBO's "The Making of "The Mexican"; Theatrical Teaser; Theatrical Trailer; Cast Biographies; Filmmakers Biographies: Production Notes.

Comments: This film was not well liked by the critics, mainly due to the fact that screen time between the two stars was almost nil, and when they did have screen time together, they were always fighting and yelling at each other. But, this was the way the story was written and it is a very enjoyable film. With regards to the deleted scenes, this reviewer believed that the deleted scenes with Ted should have been left in. Not only do they tell what happened to him, but they are enjoyable and Ted is one of the more likable characters in this story.

Hidden Extra: There is a hidden ninth deleted scene on this DVD. From the Main Menu, select Special Features then Cast. Next select Brad Pitt. When his screen comes up, you will notice a little box by his name. Move the directional arrow up to highlight the box, then press enter. You will get a 74-second scene of a frantic Jerry calling Samantha from a dusty roadside booth and getting a pointed message on her answering machine.
Please help support our site by buying this DVD title through this link. Thank you kindly.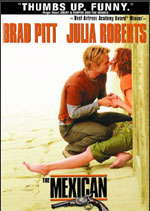 Purchase This DVD
Story / Content



Audio



Video



Extras