NEW GUY, THE
Reviewed August 27th, 2002 by David Nusair
The New Guy, a cliched comedy to the max, represents every non-popular teenís fantasy of what their high school life could have been like. The titular new guy of the film, played by D.J. Qualls, gets the chance to completely reinvent himself when he winds up at a different school and not surprisingly, he turns into a badass.

As the movie opens, Qualls and his three friends (who also play in a band) are starting up another year of high school which promises to bring a lot of bullying and social isolation. But Qualls, after a school-wide humiliation, decides enough is enough and figures a change of scenery is just what he needs. He concocts a scheme that not only gets him expelled from school, but lands him in prison as well. While behind bars, he hooks up with a tough prisoner (played by Eddie Griffin) and learns how to act ferocious. Upon his release and enrollment into a new school, he quickly becomes one of the most popular kids there. But at what price?

The New Guy plays like an afterschool special, albeit with some pretty big names in supporting roles. Thereís absolutely nothing here that canít be predicted beforehand; thereís even a sequence in which Qualls, out on a date with the prettiest girl at school (Eliza Dushku), has to pretend he doesnít know his old friends. If thatís not cheesy enough for you, wait until you see the final 20 minutes. Not only does everyone at the new school find out about Quallsí old life, but Qualls has to stand up and give a horrendously lame speech about how inner beauty is more important than anything else.

Yes, The New Guy is the sort of paint-by-numbers film thatís become increasingly more commonplace nowadays. Though the movieís rated PG-13, there are still a number of moments that would be quite welcome in an R-rated gross-out comedy (the struggle between the principal and his bowels is certainly the lowlight Ė or whatever the opposite of highlight is). One of the only bright spots is a cameo appearance by Vanilla Ice, in what I presume is his first appearance in a film since Cool as Ice. As an aggressive record store owner, Ice provides the movieís only laughs.

The New Guyís no worse than other teen recent teen-aimed flicks like Slackers, but thatís not exactly a compliment.

Audio: The New Guy comes armed with a DD 5.1 soundtrack and not surprisingly, itís impressive. Though itís not exactly demo material, it still features quite a few instances of oomph that you might not have expected. The football sequences, for example, utilize the full range of sound and will no doubt make you feel like youíre there.

Video: The 1.85:1 anamorphic transfer is just as good. Itís bright, colorful, and vibrant Ė and of course, thereís nary an artifact or film related problem to be found. Not much else to say; stellar work from Columbia Tristar.

Extras: A video for Simple Planís ďIím Just a KidĒ along with trailers for XXX, Spider-Man, Mr. Deeds, The Animal, and The New Guy

Conclusion: The New Guy might appeal to very undiscriminating 13-year-olds with low self-esteem, but thatís about it.
Please help support our site by buying this DVD title through this link. Thank you kindly.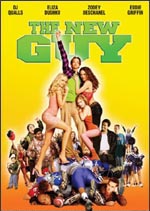 Purchase This DVD
Story / Content



Audio



Video



Extras