NINTH GATE, THE
Reviewed September 16th, 2001 by Dan Jones
Directed by Roman Polanski, The Ninth Gate revolves around a crooked book dealer, Dean Corso, played by Johnny Depp, and his travels to acquire and compare two other copies of the infamous 17th century book, "'The Nine Gates of the Kingdom of Shadows" for his client Boris Balkan, played by Frank Lengella. This book is said to be written in direct conjunction with LCF, or Lucifer, and of course, due to the times at which it was written, the author of the book was executed. A true copy of this book's nine engravings are said to conjure Satan himself, although for Balkan, Satan is not appearing.

The Ninth Gate's plot is very engaging and helps to move the rather long (133-minutes) movie along. This is not to say the movie is without holes and enigmas that are left in our head long after the movie's final credits role. The ending itself is abrupt and leaves us with little closure on to what will happen next or what role a certain character (played by Emmanuelle Seigner) truly had in the movie. Some will walk away hating the movie just for its abrupt ending, some will walk away thinking that it is brilliant. Some will walk away hoping for a sequel; but, in this writer's humble opinion, a sequel would be absurd, as it would take the movie into a completely different realm, from a thriller to a horror film.

Enough plot; How does the movie transfer to the DVD format?

The video quality of The Ninth Gate is very good. Overall, the movie has a slightly dark atmosphere to most of its scenes, implying there is an evil overtone in just about everything and everyone. The movie is presented in 16:9 widescreen, and the picture quality is very good with no noticeable visual blemishes.

From an audio standpoint, we get a solid 5.1 Dolby Digital audio mix. Although the audio is not too immersive, it does spread around the room pretty well. There are no huge, speaker pounding, action sequences, but the 5.1 mix does its job.

As for extras, The Ninth Gate does a decent job. We get commentary from Roman Polanski, an isolated music score, a gallery of the satanic drawings depicted in the movie, theatrical trailers and TV spots. None of these extras are overly exciting, but they do offer a great supplement to a solid movie.

Overall, The Ninth Gate is a solid movie. It is a movie that supplies no ending; rather it allows the viewer to imagine what happens next. The lead up to the ending is everything you could really ask from this plot. The acting is great; the atmosphere is great; the ending... is up to you to decide.
Please help support our site by buying this DVD title through this link. Thank you kindly.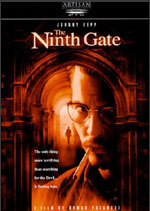 Purchase This DVD
Story / Content



Audio



Video



Extras