OSBOURNES, THE: SEASON 1 (UNCENSORED)
Reviewed March 1st, 2003 by Dan Jones
"Sharon, bubbles!? I can't have BUBBLES at my F***'n concert. I am the F***'n Prince of Darkness!"

Reality TV doesn't get much better then this. It started off as a simple plan: tape the family life of one of the most notorious heavy-metal artist's of all time, Ozzy Osbourne. What it became was a cultural phenomenon; MTV's biggest hit ever, bar none. There is no script, there is no plot, and there is no intentional greater meaning. Nevertheless, the Osbournes have a universal appeal.

The cast of characters is perfection. Sharon, the wife, definitely wears the pants in the relationship. She is Ozzy's manager and lifetime love; she also came up with the idea for the show. Sharon and Ozzy's relationship is quite interesting to watch, especially considering the strain that the relationship went through in the past, namely with Ozzy's insane past lifestyle and the fact that he almost killed her during a horrible alcoholic relapse. Yet, she seems to dearly love Ozzy and seems to really understand the man behind the myth. Ozzy's love for Sharon is nothing short of life saving. It's obvious that without her, Ozzy would most likely be dead.

Jack and Kelly are always entertaining. Jack is the rebellious and seemingly very independent son who seems to do anything he wants whenever he wants. While Kelly is basically always getting into fights with Jack, or just exploding in general (Ozzy makes a reference that she goes nuts every day at least once). Kelly now has an album out; Jack on the other hand is very involved in the inner-workings of the music business, producing and managing.

Then there's the Prince of Darkness himself, Ozzy Osbourne. Half the time you might not understand what he's saying, or half difficulty following his train of thought, but the man is probably the most entertaining person to just watch. Yet, the portrayal here as opposed to his stage persona seems to be night and day.

And that is probably what makes it all work. Everyone comes into the show with what they would expect the Osbourne family to be like, only walking away to think much differently about them. Yes, just about every word out of their mouth is "shit" or "fuck," but on a family level they all seem to respect each other, all seem to love each other; even Kelly and Jack.

Overall, the show is just hilarious; but enough about that, let's take a look at the DVD set presented here. To start there are two versions available of the Osbournes; censored, or uncensored. The uncensored version lets you turn on the censored track so consider that at purchase if you want the best of both worlds.

Video wise, this is a good presentation. All 10 episodes of season 1 are presented in 4:3 full-screen. Granted, the transfer is none too spectacular in any area, but it is better then it looked on cable TV. Compression problems weren't noticed and detail seemed fairly high throughout. Just fine.

Audio wise, we are given a Dolby Digital 2.0 Surround track, which is again fine for the material. Dialogue is clear and crisp throughout; no complaints here. It's nothing special, but it's again a step up from cable.

Included are a fairly nice set of extras. First up we have the option of a commentary track on the first 9 or 10 episodes (why its not on the last, I don't know.) This is a somewhat interesting listen as it gives some insight into their interaction with MTV and how they portrayed certain events. We also get a lot of amusing banter amongst the family. Definitely worth checking out.

Next we have a small portion of unaired footage, a bloopers reel and a highlights reel. The first two are worth a watch, but the highlights reel is a bit redundant.

Next we have the "Ozzy Translator" that is quite an amusing addition. Turning it on will put subtitles under everything Ozzy says. Even though the man isn't completely undecipherable this does help out on some occasions to flesh out what he said.

Ozzy's 10 Commandments gives us Ozzy's view on what family should be. It also gives some interview footage with the family on touring and taping a show like this.

Finally we have a few games, specifically "Name the Dookie", "Edit a Scene", and "Osbournes Bingo." These are nothing special, but might be amusing for those that are truly hardcore Osbournes fans.

Overall, this is a good DVD collection of the first season of the Osbournes. We've got a healthy portion of extras, fine video and audio, and content that well, speaks for itself. The Osbournes is a great take on today's nuclear family. Definitely recommended to any fan of reality TV or any fan of Ozzy (if they can stomach his change from on-stage to off). If you're a fan of the show already, you'll have to pick this up. Check it out.
Please help support our site by buying this DVD title through this link. Thank you kindly.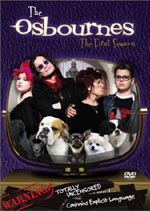 Purchase This DVD

Purchase Promo Poster

Story / Content



Audio



Video



Extras