PELICAN BRIEF, THE
Reviewed September 16th, 2001 by David Nusair
In The Pelican Brief, Julia Roberts plays Darby Shaw, a young law student who, after two Supreme Court Justices are murdered, puts together a brief outlining her theory of who's behind the killings. Now, she's on the run with various good and bad guys after her (gee, wonder if her theory was actually correct?).

The Pelican Brief is based upon the novel by John Grisham, and serves as a Cliff's notes edition of the book. Most of the plot points are touched upon, but that's it. The extensive character development, the slow-build before the action starts – that's all gone. But really, with a book as long and detailed as The Pelican Brief, it's just not realistic to expect the same sort of intimacy one receives when reading a novel.

There is a lot to recommend about The Pelican Brief, though. Roberts, for one. This is one of her few non-cutesy roles and she really pulls it off nicely. Darby Shaw is a character that needs to exude confidence at the outset of the flick, but slowly lose her self-control as these terrible events start happening around her. Equally good is Denzel Washington as Gray Grantham, the reporter that eventually hooks up with Darby and has to ensure that his star witness isn't murdered or caught. An excellent ensemble rounds out the cast, including everyone from Tony Goldwyn as an evil Presidential aide, John Heard as a hapless Justice Department agent, and Hume Cronyn as a controversial Supreme Court Justice.

The movie was written and directed by the late Alan J. Pakula, who was sort of an expert at these kinds of flicks (he also did All the President's Men). He dives right into the action, allowing the audience only about 20-minutes of calm-before-the-storm, which might not be enough but really, who wants to see a 3-hour version of The Pelican Brief?

Audio: The Pelican Brief comes equipped with a DD 5.1 surround soundtrack, and it's effective. Check out that scene in which Darby has to run for her life in the middle of a crowded New Orleans street – the rears come alive with various sounds of jubilant partying. Quieter scenes are just as effective, with the dialogue sounding crisp and clear.

Video: This was one of Warner's first releases and as such, it's not quite up to par with their later releases. This 2.35:1 anamorphic transfer is essentially free of film elements, but various DVD-related problems are consistently present. During dark scenes, especially, these artifacts are especially problematic. But this is a watchable transfer (although a flipper – if a title ever called out for a re-do, this is it).

Extras: Surprisingly enough, this early Warner title comes with more extras than most of their recently-released bare bones titles. First up are brief bios and short filmographies for most of the central actors. Next is a very short making-of section, with a few pages devoted to how casting was accomplished, where the film was shot, etc. In the section titled "Director's Corner", you'll find trailers for four of Pakula's films (All the President's Men, Klute, Presumed Innocent, and The Pelican Brief). Oddly enough, all are anamorphic except for Klute. And finally, under recommendations, you'll find three more trailers (The Client, Disclosure, and JFK – all anamorphic).

Conclusion: While not a stellar transfer, The Pelican Brief is nonetheless a solid disc for a solid flick.
Please help support our site by buying this DVD title through this link. Thank you kindly.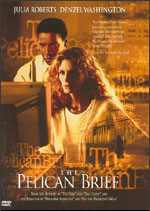 Purchase This DVD
Story / Content



Audio



Video



Extras