PLEDGE, THE
Reviewed June 19th, 2001 by Len D. Martin
Cast: Jack Nicholson (Detective Jerry Black), Benicio Del Toro (Toby Jay Wadenah), Dale Dickey (Strom), Aaron Eckhart (Stan Krolak), Helen Mirren (Doctor), Tom Noonan (Gary Jackson), Robin Wright Penn (Lori), Adrien Dorval (Sheriff), Vanessa Redgrave (Annalise Hansen), Mickey Rourke (Jim Olstand), Sam Shepard (Eric Pollack), Patricia Clarkson (Margaret Larson), Lois Smith (Helen Jackson), Harry Dean Stanton (Floyd Cage), Pauline Roberts (Chrissy).

Director: Sean Penn

Story: Detective Jerry Black is retiring from the Reno, Nevada Police Department. At his retirement party a call comes in that a little girl has been found murdered. Jerry asks to go along although he has retired. At the crime scene they cannot believe what they see. The little girl has been horribly murdered and young local boy, who happened on the crime scene, has identified a mentally disturbed Indian as the killer. Since no one has informed the girl's parents of her murder, Jerry volunteers to do it, and while there makes a pledge to the mother to find the killer of her daughter, and it is this pledge that will haunt Jerry throughout the film. When the Indian, Toby, is brought in, Detective Krolak coerces a confession out of him, and when they are taken Toby back to lockup, he grabs a deputy's gun and kills himself. Case Closed. Or is it? Jerry does not believe Toby was the killer, and through constant investigation learns that the murdered girl drew a picture of the killer, whom her friend said she referred to as "The Wizard". Also in the drawing was the killer's black car. Jerry also learns that two other little girls were murdered by "The Wizard" two years earlier in different towns in the state. Seeing his opportunity to find the killer and keep his pledge, Jerry buys a gas station between the two towns so he can keep an eye out for the killer's car. Jerry has also befriended a local waitress and her little girl. Is Jerry's pledge so important that he may use the little girl as bait to trap the killer?

Audio: Presented in English and French Dolby Digital 5.1 with Subtitles in English and French.

Video: Presented in Anamorphic Widescreen 2.35:1 with excellent color.

Extras: Interactive Menus; Theatrical Trailer; Scene Access; Cast and Crew Biographies.

Comments: Although the extras are sparse on this DVD, the acting and directing are superb. Sean Penn and Jack Nicholson have another hit. In this reviewer's opinion, Warner's did not give this film a chance. It was thrown into the theatres in January and was not previewed before the end of the year to qualify for the Academy Awards. In my opinion, Jack Nicholson gave another powerful performance worthy of an Oscar nomination and Sean Penn was equally adept at directing. Let's hope the Academy does not forget this one for this year.
Please help support our site by buying this DVD title through this link. Thank you kindly.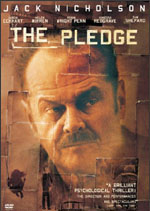 Purchase This DVD
Story / Content



Audio



Video



Extras